Jay-Z's Bachelor Party
Here's to Jay-Z and Beyonce!?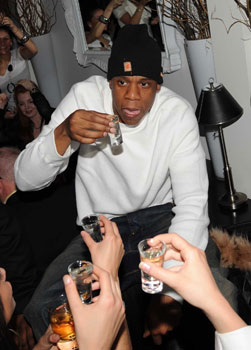 Jay-Z looked like he had something to celebrate after his show in Toronto last night and we're not even talking about that multi-million dollar Live Nation deal. He raised a shot glass with his buddies at Lobby, and it seems like everyone else in the room joined in on the toast. Apparently the ladies were fawning all over him, but Jay behaved himself and was in great spirits. Could he be basking in the final moments of his bachelorhood? Most of you think that his wedding to Beyonce is imminent now that they've gotten a marriage license, so Jay-Z had better get ready for a lot more partying in the next month.