Coming out of retirement sure is paying off for Jay-Z. This Sunday he was honored at the inaugural BET Hip-Hop Awards in Atlanta. Rapper T.I. ended up with the most wins, taking home three awards including MVP of the Year, and Grandmaster Flash won the show's lifetime achievement award, I Am Hip-Hop. Jay-Z of course, didn't try to steal the spotlight from anyone. Here's more: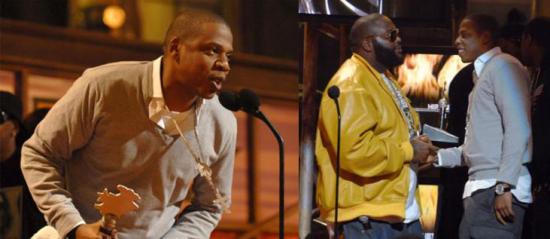 Jay-Z ...was there to pick up his seemingly requisite awards show honor, being named esteemed Hip-Hop Hustler of the Year. Beyoncé's better half beat out the likes of Diddy, T.I., Ludacris and Nelly for the award and pulled a reverse Kanye in his acceptance speech, objecting to his own win.

"Luda is supposed to win this one," he said from the podium, jokingly adding that he and his fellow rapper would fix the outcome next year.
What a gracious winner. Still, lately it seems like you haven't really had a good awards show until someone freaks out. Well, there's always next year. For more pics of modest Jay-Z at the ceremony just read more