Jen Breathes Easy Over Surgery Rumors
Rumors have been circulating for a while that Jennifer recently had both her nose and boobs done. Instead of heading over to Oprah, she talked to People Magazine to clear the air. She did undergo surgery on her nose for a deviated septum. As for those great breasts? Well, once again she is saying they are all real. You'd think that she'd be annoyed by having to address the whole thing, and she probably is, but publicly she just laughs it off. Here's more: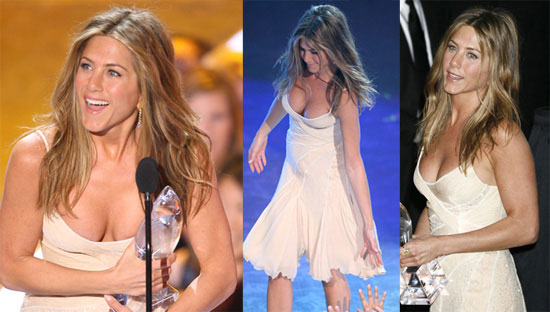 Currently the tabs are having a field day over rumors about plastic surgery – your nose, your boobs. What's going on?
(Laughs) It's funny. I had [a deviated septum] fixed – best thing I ever did. I slept like a baby for the first time in years. As far as all the other [rumors], as boring as it sounds, it's still mine. All of it. Still mine.
They're still gonna run before and after pictures ...
Short of letting everybody have a feel, I don't know what else to do. I really am pretty happy with what God gave me.
What gives you the most joy right now?
Beginning a new day. When you see what else is going on on the planet, it's pretty hard not to go, "Wow, thank you."
I wouldn't have blamed her if she just would have said, "You know what? My boobs are really none of your business!" Or perhaps she can tell us what to wear to make them so fabulous. It's refreshing that she's able to keep a positive attitude through it all.