Jen and Jim Summer Lovin'
Jen and Jim Summer Lovin'
For some reason I am so enjoying watching these two come out to us. As reported before J&J have been dating quietly for a few months but were waiting until it was serious before making it public. Now they are happily enjoying walks on the beach, sushi dates and concerts like Radiohead and Fiona Apple. People reports: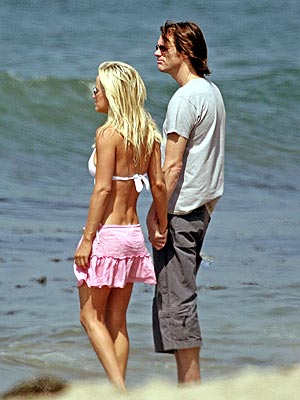 Holding hands at the June 29 Radiohead concert in Los Angeles, the pair "were having so much fun," says a fellow concertgoer. "It was like you were watching a romantic comedy."

The 44-year-old comedian, says a source close to him, "is very happy."

As is McCarthy, who has been uncharacteristically mum about her new love. "I'm so brutally honest and tell people everything about my personal life, it's really hard not to," she told Access Hollywood, adding that Carrey is "an amazing person."

The couple have more than just a silly streak in common: Carrey has a daughter, 18-year-old Jane, with first wife Melissa Womer; McCarthy has a son, 4-year-old Evan, with director John Asher. (McCarthy and Asher filed for divorce last August.)

For now, the twosome seem focused on simply having a good time. "They were laughing and smiling," says an observer at the Radiohead concert. "They just look like such a great couple."
I like that they both have kids. They seem to really fit with one another. They must be cracking each other up all the time. Although he has been getting some flack for his latest hair do, I think it looks great on him. He looks younger to me now, but that could also just be the look of love.