Jen and Vince - A Year Later
Apparently what everyone thought might have been a rebound relationship just might be the real thing. This weekend in People Magazine, they take a look back at their relationship over the past year. The couple still won't admit they are together but maybe it's because they just want some peace as they figure out their future. Besides, it sounds like in private they are very much together.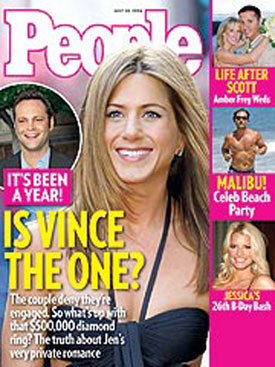 During a Mexican getaway last month, locals say the intensely private duo rarely ventured out, spending time at the Punta de Mita estate of Girls Gone Wild producer Joe Francis. Back at home, Aniston and Vaughn are equally determined to keep a low profile. "When they walk outside, they are so aware [of paparazzi] and know not to do anything. Not even hold hands," says the pal. "But when they are in private, they are very affectionate."