Jen Would Rather Strip Than Get Drunk
Looks like Jennifer was all business the other day in LA. It almost reminds me of her days on Alias in this outfit. Perhaps it's because she doesn't look like her usual self. The all business Jen is very different from -- the T-shirt and jeans, mommy to Violet Jen -- that we have been used to seeing around town. While she recently said that she's in the worst shape ever, she's still confident enough with her body to take it all off - if need be. Here's more: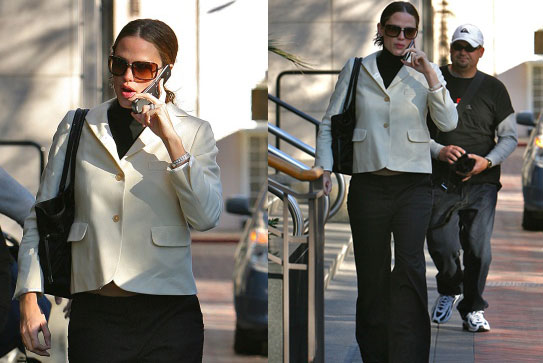 ...And all the lingerie scenes in Alias?"I was in about half the lingerie that they wanted me to be in! Every now and then I'd get a script that would be like, 'Sydney's in a bikini,' and I'd be like, 'I can't! You have to give me notice. I have to have months to get ready. Don't make me do it.' Am I uncomfortable? It's as easy as this: If I feel like I'm in shape, if I feel secure about my body that day, then I don't really care. Otherwise it is incredibly painful." She thinks a bit more. "I'm okay with it. Definitely. I mean—yeah, I will definitely streak somewhere before I would get drunk."
Wow! We never would have guessed that one. Looks like Jennifer isn't all business and babies these days! For more pics just read more