Jenna Dewan on the Cover of Self Magazine Nov. 2013
Channing Tatum Loves Jenna's Postbaby Body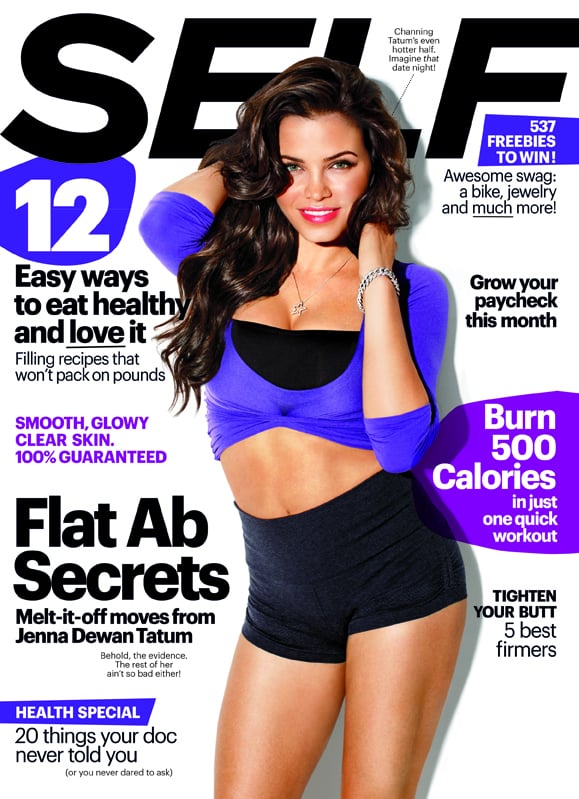 It's been less than six months since Jenna Dewan gave birth to baby Everly Tatum, and she looks absolutely phenomenal. In the November issue of Self Magazine, which is set to hit stores nationwide on Oct. 22, Jenna talks about how she lost the 33 pounds she gained during her pregnancy in just seven weeks, and how she juggled the new baby, her relationship with Channing Tatum, and work on her new Lifetime show, The Witches of East End. As it turns out, she really was just moving to the beat of her own drum, and the beat of today's biggest hits.
On her curvier body after the baby: "Chan loves my new figure. There's no complaints on his side, for sure!"
On her pop-culture guilty pleasures: "After Everly was born, I watched music videos on TV a lot. Every time 'Blurred Lines' came on, I'd rock her to sleep to it. I should send Robin Thicke an email: 'Thank you for your song. It has saved me!' It's also perfect to do squats to!"
On how she got back into shape: "I do a 35-minute hip-hop workout my trainer gave me. Chan laughs because he walks in on me doing my routine to Lil Wayne in the living room. He hasn't jumped in yet, but I'm going to have to work on that!"