Jennifer Aniston Architectural Digest Cover
Jennifer Aniston Lets Us Into Her Amazing Spa JA
Jennifer Aniston lounges in her LA home, which she describes as "a big hug" for the March cover of Architectural Digest. She has been working on her incredible house for years and while we've got an idea at what it's like, nothing compares to a full photo spread. Among the details the magazine reveals: Aniston made the "his" side of the "his and hers" bathroom into a spa bath, and her dining room table seats 24 for her famous dinner parties.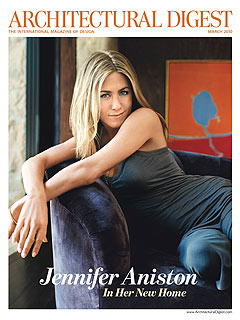 Jennifer described her home, which she calls "Ohana" based on the Hawaiian concept of extended family, saying,
"I entertain for a living, and I entertain. The house has a rather glamorous, old-fashioned Hollywood quality. I can just imagine the Rat Pack stopping by; someone is playing the piano, and people are laughing in the next room."
It all sounds pretty special — must be nice to be one of her girlfriends! Jennifer is also planning a Haiti benefit for later this month. Check out the full spread when the issue is out on Feb. 9.