Jennifer Aniston Bikini Pictures in Cabo With Chelsea Handler on Thanksgiving
Pics: Jennifer Aniston Stays Thankful For Her Bikini Body in Mexico With Chelsea Handler!
Jennifer Aniston went south of the border for her Thanksgiving, celebrating the holiday in Cabo, Mexico with her good friend Chelsea Handler. The single ladies were joined by a few guys as well, one of which got a big hug from Jennifer yesterday. Jennifer was sporting one of her favorite purple bikinis, which she also brought to the resort for her annual birthday trip earlier this year. Jennifer's getaway comes on the heels of wrapping up work on Wanderlust in NYC. There was no sign of Chelsea's rumored boyfriend, 50 Cent, and instead she and Jennifer enjoyed cocktails with their mystery men. Chelsea and Jennifer had a perfectly relaxing turkey day together, and Handler twittered what she is appreciative of this year saying, "I am thankful for my dog, my boobies, and my life. Happy thanksgiving to you and your boobies." She has something else to be happy for since she just purchased a gorgeous LA home. Jennifer was recently rumored to be purchasing a house in Mexico with Courteney Cox, but for the time being, she looks perfectly happy chilling with Chelsea in their hot two-piece suits.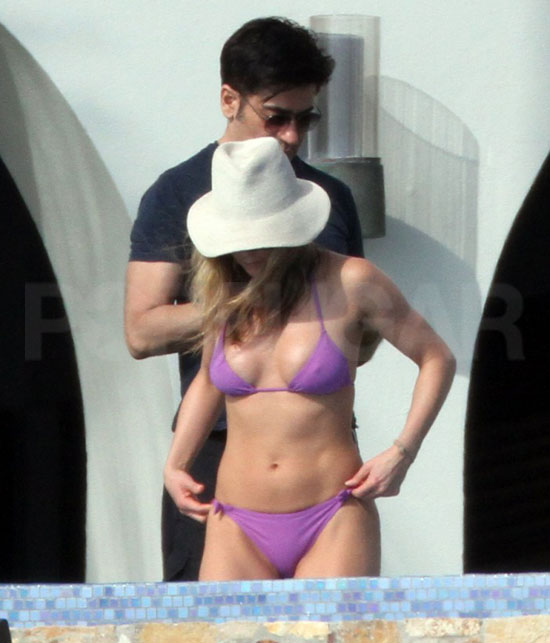 To see more of Jennifer, Chelsea, and their men, just read more.