Jennifer Aniston on Body Confidence in Horrible Bosses Interview
Jennifer Aniston on Being "More Comfortable in My Body and My Skin" Than Ever!
Jennifer Aniston talked about straddling her costar Charlie Day at yesterday's Horrible Bosses press conference, but conversation also moved on to slightly more PG topics! She touched on the worst job she's ever had as a Big Apple bike messenger at just 19. Another of her leading men, Jason Sudeikis touched on a run-in he had with the law around the same age. Jennifer had more to share about accepting a role with such filthy language, saying she wasn't worried about affected her America's sweetheart status. They said: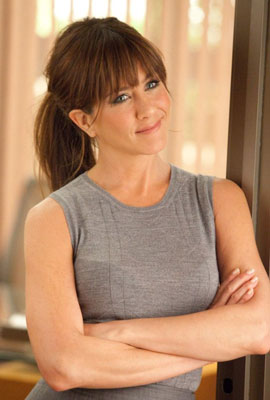 Jennifer, what's the toughest job you've ever had and why did you change up your look for this role?
JA: The toughest job I've ever had was being a bike messenger in New York City. I was 19.
JS: That's hot.
JA: Not if you saw me riding a bike. My look for this? I knew I wanted her to look different. With the dark hair, I was doing a movie right before and right after, so we had this wonderful period of time that we called hair-gate because the studio did not want me to wear a wig because the studio's like, "No one will know who you are." And I'm like, "What do you mean? They'll know who I am because of my name on the credits." There's just no way I could be saying these words and playing this woman and not look that much different. It was really fun for me. I just felt such freedom.
What what your worst day as a bike messenger?
JA: Probably driving into a door that was open. I'm just very uncoordinated and extraordinarily klutzy. And I just never should have been allowed on a bicycle with cylinders.
Jennifer, did you think you were taking a big risk with this role? And if so, did you have to ask SmartWater?
JA: Yes, I consulted SmartWater (joking). [The risk] is the fun. You don't want to play it safe all the time. And I've never sort of had a script come to me that allowed me to go in this direction. So it was a great opportunity. I don't think I really cared if there was a bad reaction to it. I actually didn't think there would be. I thought it would be fun for everybody. I'd hope.
To read what Jen says about being sexually confident in her 40s, confronting sweet-girl stereotypes, and Jason's run-in with the police in Kansas, just read more.
Do you think that older women become more sexually confident, Jennifer?
JA: Absolutely. Not at all. At the age of 60, I'm doing pretty good. No, I think I absolutely get more comfortable in my body and my skin as I get older. More than when I was in my 20s — I was so awkward and uncomfortable. And are men intimidated by older, more sexually confident women? I think men are intimidated by any woman who's sexually confident, no matter her age.
Charlie, was it shocking to you to hear someone like America's sweetheart Jennifer Aniston saying such filthy things?
CD: Yeah! What's good is that my natural reaction is caught there on film and goes into the movie. My job was to react shocked to the things that were coming out of her mouth. So for me, it was pretty easy and a lot of fun.
How about saying dirty things?
CD: I've got a filthy mouth, so it was not a problem for me. I'll talk dirty to anyone who wants to hear.
Have any of you ever been part of any harebrained schemes that simply went too far?
JS: Yeah, I got arrested with some friends in college for breaking into a car wash in the middle of Winter in Kansas . . . That was a harebrained scheme that didn't work out for any of us.
JA: Wait, why were you breaking into a car wash?
JS: It was in Ft. Scott, Kansas; we were back early for basketball before any of the rest of the people. We got there, and we got into a car that had a crowbar in there, and a friend had an idea that we were gonna go crack open the dollar machine that you get the change out of so you can put in the vacuum. We didn't get to it. There's nothing going up in Bourbon County, Kansas, and we got rolled up on . . . Now there's this new thing called crystal meth, which sounds like a hoot. That's about the extent of my criminal career.
JA: I've such a criminal past. No!
JS: I jaywalk on a daily basis.
Jennifer, did you take this role to confront the America's sweetheart notions about yourself?
JA: I didn't take the role so that I could try to rid myself of that title. There's so many different America's sweethearts . . . I just took it because I loved it and thought it would be a fun challenge and to step out of what people usually like to see me play. That's a label; you know you're branded, you're given things, and things are attached to you . . . but no, I didn't.