Jennifer Aniston For Elle UK April 2009
Jennifer Aniston Is Happy but Wants a Little More Action
Jennifer Aniston's beautiful blue eyes really shine on the cover of the April issue of Elle UK. After making Marley & Me a big hit here in the states, she and Owen are now busy promoting their movie all over the world. In the issue, Jen talks about her eating habits, her dream role, and why she can't win with the Brad questions. Here are highlights: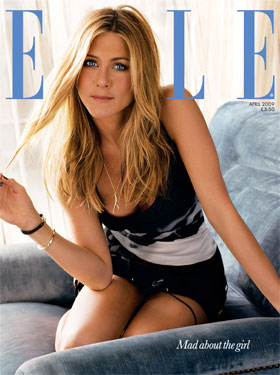 On her divorce:: "No matter what I say, things will always be taken out of context and misinterpreted, will always be turned around to make it seem as though I won't let something go, or that I just keep talking about it over and over. I don't owe anybody anything. I don't owe anybody my side of the story. There are no sides! There is no bad guy and there is no good guy. There are no villains and there is no heroine in this story. It's just not the case."
On her diet: "I'm a realist. I know that if I eat nothing but burgers and chips, I'm not going to be hired for the parts I normally would. That might be fine one day, but not right now."
On being happy: "I remind myself every day that I am lucky. Look what's out there. Look what people are really living through. There's no comparison. I am happy."
On movie roles: "I get offered funny, quirky, pretty roles. I'd love to do an action movie. James Bond! Glamour! Daniel Craig! Sh*t-loads of fun!"
Considering how hot Jen looks these days, we think she'd be a perfect Bond girl kicking butt alongside Daniel Craig in the next 007 movie.