Jennifer Aniston Interview About Horrible Bosses
Jennifer Aniston Got to Know Her Horrible Bosses Costars "Between Straddling"
Jennifer Aniston looked hot in Tom Ford, Calvin Klein, and Michael Kors this morning on her way to do press for Horrible Bosses at NYC's Waldorf Astoria Hotel. Justin Theroux and Jennifer Aniston were together to visit Inside the Actors Studio last night, but today she had leading men Jason Sudeikis, Charlie Day, and Jason Bateman along with director Seth Gordon and screenwriter Michael Markowitz to chat about the dark comedy out on July 8. Jen joked about the less-than-ideal management and jobs from her past and confessed that she didn't really mind tackling the dirty-talking role of Julia Harris, a dentist who doesn't seem to respect the boundaries of workplace sexual harassment. Some of her funniest scenes are with Charlie, who didn't have to do much acting when it came to being shocked by Jen's character. They said: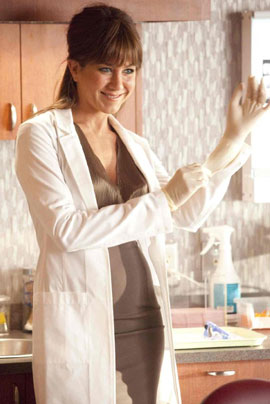 Do you have any particularly awful bosses that stick out in your mind?
Jason Bateman: I've never had a bad one.
Jennifer Aniston: I had one that was inconsistent and a little complicated but not horrible.
Jennifer, did you have any hesitations about taking on such a filthy-talking role? And is there a shift toward gorgeous women saying dirty things?
JA: I know I had no hesitation, to answer that question. At all.
Michael Markowitz, writer: When I wrote the script — I always have actors in mind when I was writing. And Jason Bateman and [Jen] were the actors I had in mind. I never knew if it was like, rude, to tell you that I thought of you for that part.
JA: Are you kidding? It's a compliment!
MM: I broke my leg and was watching DVDs, and I watched Friends start to finish and I thought, Oh! She'd be great at this. Rachel was so much bawdier.
Jason Sudeikis: Oh! That's how I know you. You were on Friends!
Did director Seth Gordon encourage you to improvise or did you just go for it, Jen?
JA: It was on the page. So I was just doing my job. There was nothing that didn't happen that he wasn't getting so tickled and excited about. The raunchier the better. It was pretty easy. It really was.
Jen, was it fun to take on a role where a girl gets to play a stereotypically guy character? And how did you prep for the role?
JA: Well that's what I think was so fun about it — being a female who's usually a male character . . . and that's sort of what made it that much more fun. I did go to the dentist right beforehand though to see how they hold the tools. The rest was easy.
To read what Charlie says about being shocked by Jen, and her take on being one of the guys on set, just read more.
How much improv ends up in the film?
JS: Less improvisation. Improv to me is when the cameras start rolling and we don't know what we're doing and we're just wasting people's time and money. That's not what happened.
Charlie, please tell me your raunchy photo shoot with Jen in the film wasn't photoshopped, and how do you do the best crazy eyes in the business?
CD: I don't know how to answer the crazy eye thing. You know, it was an actual photo shoot. We took those photos together! We had a nice little private session and we took some photos. I've never been more embarrassed about my body in my life standing next to this woman.
JA: Oh my God.
CD: I've since started to see a trainer.
Jen, were you one of the guys on set?
JA: I wasn't with the guys really. It was just me and Charlie and Seth. We would just sort of get to know each other in between straddling.
JB: We were knocking on the door. We wanted to get in there.
CD: You did bite my ear pretty hard.
JA: Did I really? Yeah, once I was going for it.
Jennifer and and Jason, what would a night of passion look like between your character and Jason's?
JA: Wait a second — this Jason?
CD: Yeah, your characters think about it!
JS: You beckon me in, and then our characters, we assume — maybe we did, maybe we didn't — have sex.
JA: It probably happened.
JS: Here's how it went down — these stick figures [pretends to draw] well assuming our sex organs are in the same place as on other people . . . well I probably just held on for dear life.
JA: What he said!