Jennifer Aniston on Marley and Owen
Jennifer Aniston was seen ducking out of the Casa Del Mar Hotel in Santa Monica this weekend and she also spent time participating in a press event for Marley & Me. This film is the first one Owen has promoted since being hospitalized last year. The actors spoke about their chemistry, their own dogs and the many Marleys that made this film so much fun and so challenging. Here are highlights from USA Today: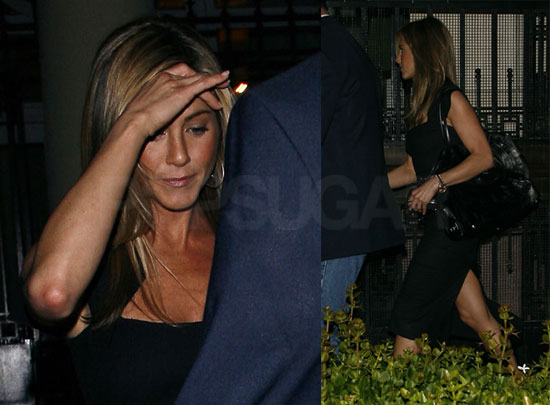 On their chemistry:
Aniston: It was an instant ease when we met and started rehearsing, and I think it's rare. Sometimes you actually really like the person you are having good chemistry with. We lucked out. It was fun to be at work and play these people.
Wilson: I felt extra pressure that we got along, because I had so many friends that had worked with Jen, and everybody has said the same thing, how much they loved working with her. I didn't want to be the one guy she hates!
On what kind of dog they would be if they could choose any breed and why:
Aniston: A Labradoodle! Because it's payback time, baby! I wouldn't be Norman. I'd like to have more fun than Norman. Norman just likes to sit and hang. But I saw a Labradoodle a couple of months ago in New York; it was like a human in a dog suit. They're big, but they have curly hair. They're adorable.
Wilson: I don't have enough energy to be Garcia. I should be Norman.
On becoming attached to any of the Marleys:
Wilson: Clyde was like the main hero. Tank, one of the puppies, stands out. Old Man Marley, played by Copper, he really had this sort of dignity. It's like in a war movie, you didn't want to bond too much. If you invested too much, that dog wasn't going to be there.
Aniston: The first time you see Clearance Puppy — he's the puppy that's in the poster — that dog's name was Marlon. I almost took that one home.
The book made us laugh and cry so we can't wait to see these two make the pages come alive on the big screen.