Jennifer Aniston's New Haircut 2013
Jennifer Aniston Cut Her Hair — and Got Pierced!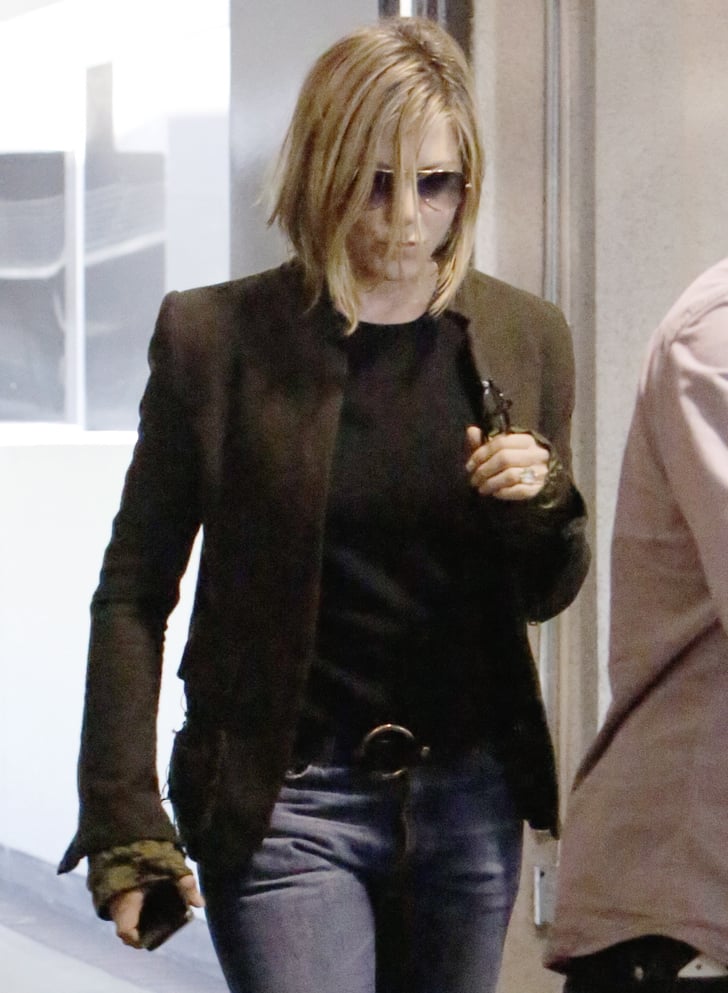 We have the pictures of Jennifer Aniston's drastic new haircut! The actress, whose locks have long been an inspiration for women everywhere, stepped out for an appointment in LA on Monday showing off her short new 'do — doesn't it kind of take you back to her Friends days circa 2001? Coincidentally, Jen spilled the beans about her bob to POPSUGAR Beauty last week. She told us, "It's short! It's at my jawline and a little shorter in the back." She also told us her motivation: "I was just ready for a change. I was ready for something new, to get it out of my face, so I could have a bit of an easier go at it." Jennifer also shared a funny throwback hair habit, telling us she usually keeps her hair "up in a scrunchie of some sort!"
Jen's new cut was the work of her longtime stylist, Chris McMillan. Chris gave details of the haircut to Allure, saying that the actress texted him "a picture of a woman on TV with a haircut she liked" — how ironic, right? He went on to explain that the chop happened at Jen's house: "Usually when I cut her hair, she'll say, 'Don't track it all over the house,' but this time she wanted to see the pile of hair on the floor." Chris was also responsible for giving Jen the famous "Rachel" style in the '90s, which she has since said was "the ugliest haircut" she'd ever seen. As if the haircut wasn't enough, Jen took her makeover a bit further with a new piercing. She and makeup artist Gucci Westman decided to get their upper ears pierced (one ear each). Gucci shared a photo of their new studs on Instagram, saying, "Me and #jenniferaniston got our ears pierced today!!! #memories."
What do you think of Jen's new look? See more photos when you keep reading.
Can't get enough of Jennifer Aniston? Check out these related stories: