Jennifer Aniston Parade Magazine Interview December 2013
Jennifer Reveals Her Awkward Phase: "I'm a Late Bloomer!"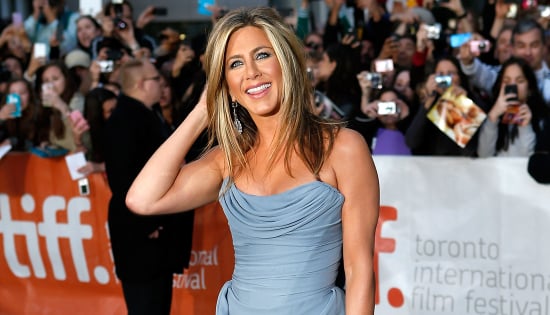 Jennifer Aniston — awkward? We would have never guessed, but the actress revealed to Parade magazine that she thinks she went through an awkward phase, but not during the time that you would think. When asked what she would tell her 25-year-old self, Jennifer opened up: "[I would say] that there's nothing to worry about — although I don't think I had a care in the world at 25, either. That all started in my 30s, my awkward phase. I'm a little bit of a late bloomer! But it doesn't matter to me, because it just gets better. They do say youth is wasted on the young, but I feel just as youthful now — if not more — than I did when I was 25. I'm more in my body; I'm more in my mind. Life is full. Life is wonderful. We're very, very fortunate." Jennifer also revealed a good reason behind her happy mood, saying that she feels the "most beautiful" when she's around her fiancé, Justin Theroux.
In addition to revealing her surprising awkward phase, Jennifer also let slip a few details about her holiday party, which this year drew the likes of Gwyneth Paltrow, Jason Bateman, Tobey Maguire, and Courteney Cox. "There's usually three different kinds of chili at the tree-trimming party," Jennifer said. "There's a vegetarian chili, a turkey chili, and a good ol' beef chili. I can't honestly say I make that, but I do make some Rice Krispies treats and hot chocolate. My best hostess tip is to have good food and really good music! We usually put on the Charlie Brown Christmas album. That's my favorite. And then we'll go to Bing Crosby and stuff like that — old school — Frank Sinatra." Be sue to check out how you can recreate Jennifer Aniston's holiday chili party before Christmas rolls around!