Jennifer Aniston Talks About Breakups and Brad Pitt with Ginnifer Goodwin and Drew Barrymore in Marie Claire
Jennifer, Drew, and Ginnifer Talk Romance and Breakups
Jennifer Aniston, Drew Barrymore, and Ginnifer Goodwin premiered He's Just Not That Into You this week, and they recently sat down with Marie Claire to order a few drinks and chat about their movie and their own love lives. Jen even chatted about saving old voicemails from her husband and boyfriends and how the truth always comes out after a breakup. Here's more: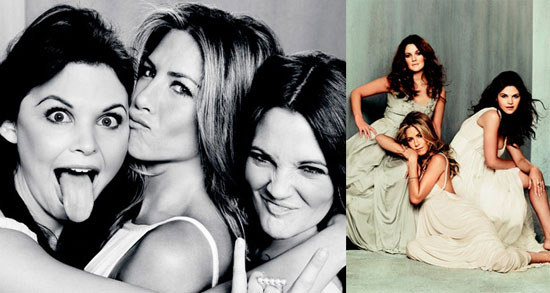 On lame breakup lines:
Drew: "I hate getting 'It's not you, it's me,' because I'm never gonna learn and grow from that. I don't want to live on lies and smoke and mirrors and horseshit. No way."
Marie Claire: "So you'd really rather have people say something hurtful?"
Jen: "Well, in a way — I mean, before it gets to desperation time. Before it gets to 'I throw you and the baby and the bathwater out,' let's see if we can work through that."
Marie Claire: "You know what? I'd rather be lied to."
Jen: "Oh, I disagree. I want the truth, because it eventually comes out anyway, and then everybody looks like an as*hole."
On technology and relationships:
Drew: "I remember when I first started dating, the big thing was RadioShack answering machines. It was such a huge deal to run home and check your messages. And when you could actually check from another phone? That was the craziest thing ever!"
Jen: "I still have the cassette tapes of messages from my first boyfriend, my second boyfriend, my husband. . . It's like saving love letters."
To hear what the girls do after a breakup, as well as more photos from the magazine, just read more.
On what they do after a breakup:
Drew: "Head straight for the carbs. Macaroni and cheese. Kraft. Deluxe. The kind with the cheese you squeeze out of a bag that takes at least a month to pass through your body."
Jen: "I don't eat a lot. I go straight to my girlfriends, though."
Ginnifer: The first thing I do is call my little sister. She drops everything . . . I'll call and say, "I'm breaking up right now, come get me. She absolutely has picked me up from hookups, with coffee in hand."
Jen: "Girlfriends — nothing like 'em, man."
It seems like Jen, Drew, and Ginnifer all came away with a new bunch of girlfriends to share their loves and heartbreaks with in the process of making their movie, which hits theaters on Friday.