Jennifer Aniston's Wedding Hair
Jennifer Aniston Wants Her Wedding Hair to Look Like She's "Had a Romp"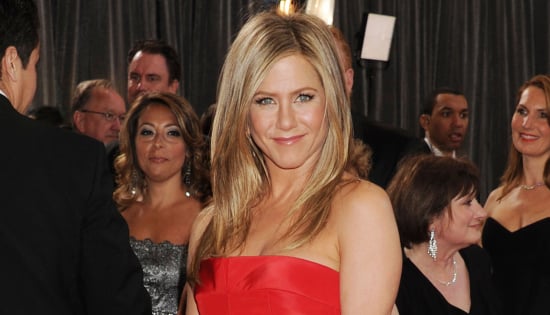 Jennifer Aniston is known for her fabulous hair, so it's only fitting that it was the subject of a special Q&A with Marie Claire. Jen was joined by her longtime stylist, Chris McMillan, as they discussed her least favorite hairstyle of all time and how she may wear her hair for her wedding. Keep reading for more from Jennifer Aniston for Marie Claire.
On which celebrity gives her hair envy: "Kate Middleton. Does she do her hair herself? She's got a hard job, being scrutinized like that. When I have a bad hair day, my hair just goes in a clip."
On her ideal wedding hair: "For my wedding, I wouldn't do an updo, but I think a veil is always pretty. I like loose and natural hair because it goes against the formality of the dress. Loose, like 'I just got out of bed, maybe had a romp' hair."
Stylist Chris McMillan on the Rachel: "I know that was Jen's least favorite hairstyle because I hear about it every time I style her hair."