Jennifer And Ben Know What Really Counts
Ben might have lost best supporting actor to Eddie Murphy but he didn't seem to let that put a damper on his night. He and Jen looked like they were in good spirits at the NBC/Universal party. In fact, Jen says it's easy to keep things in perspective when you're a mom. At a recent press conference for Catch and Release Jen talked all about her beautiful life with Ben and Violet. Here's highlights: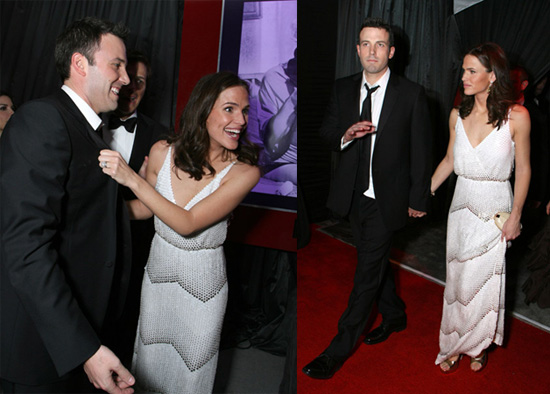 On motherhood - "Having a baby fills your life in such a way that no matter what you're doing, there's something bigger....I've just been in heaven being with her the past year."
Ben Affleck on daddy-duty - "He does a good job. I mean, okay, maybe I wrote out what he was supposed to make for her (to eat) today while I was gone. But that's just me being paranoid. He's great – he can do it."
On the Mommy-Daddy bond - "There's nothing more emotional than seeing your partner – the man you love – with your baby at any time: the first time, the second, yesterday, today. There's nothing more beautiful."
We couldn't agree more with Jennifer as a proud (newish) parent as well. I think Ben and Jen have become even more grounded after having Violet and we know how hard it is to stay that way in Hollywood. We also just couldn't resist posting more cute pics of one of our (and your) favorite couple on the red carpet from the GG so for more just read more