Jennifer's Broadway Debut
Jennifer's Broadway Debut
Jen made her big Broadway debut last night and to no surprise, she was a total hit. She starred in the 6th Annual 24 Hour Plays on Broadway benefit, starring in a 10 minute play called Three Girls and Bob. In the quicky performance, she played a single woman who attended an intimacy workshop with her girlfriends. And we hear everyone loved working with Jennifer. People reports: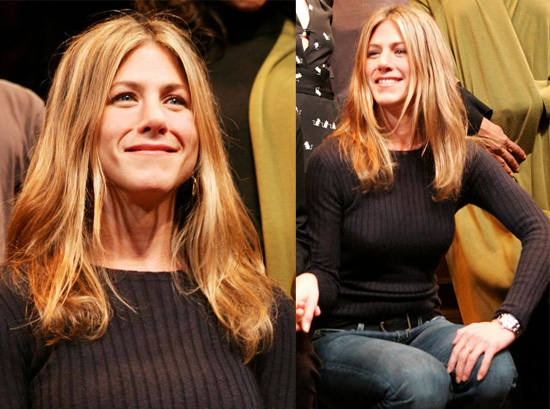 Costar Perez – who is on the board of the event's beneficiary, Working Playground, which brings arts education to New York City classrooms – tells PEOPLE that Aniston lent star wattage to the event. "We had a real boost from Jennifer Aniston," she said. "She was as sweet as pie. I really appreciated her coming because she raised the profile of tonight's event and that is going to help so much. She didn't have to do this. She didn't have to take time out of her schedule."

How did Aniston get involved? "The 24 Hour Plays people approached her and she said yes. But when she found out about Working Playground, she was over the moon. She said, 'I'll do all the press. I'll do whatever you want.' "

Perez liked her acting, too: "She's got chops. She said she had performed Off-Broadway. She's really, really good."

"She's a total pro," said Elizabeth Berkeley, who starred in another work performed Monday night. Other actors filling stages around Times Square included Anna Paquin, Gaby Hoffman, Kieran Culkin, Rachel Dratch, Julianna Margulies, Sam Rockwell, Liev Schreiber and Fisher Stevens.
Jen is everywhere right now, and doing it all well. For more pics of Jen on stage, just read more