Jennifer and Courteney's New Year's Eve
Jennifer and Courteney's New Year's Eve
David Arquette looks like he had two dates for NYE. He was seen escorting out his wife at one point and then he helps out Jennifer Aniston. It was trying to hide themselves from the cameras time as they left a restaurant in Cabo this weekend. The friends were also joined by Adam Sandler and his wife, Jackie Titone. It's a big week for the Cox-Arquettes - they both have new shows debuting. We can't wait to tune into Courteney's new show, Dirt on FX tonight. David's show, In Case of Emergency premieres on ABC on Wednesday.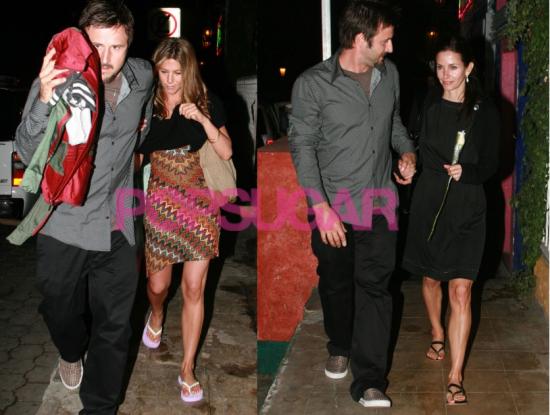 UPDATED with even more pics so to see who else was there, just read more
It's Sheryl Crow, Nicollette Sheridan and fiance Michael Bolton, Giuliana DiPandi and her new fiance, Bill Rancic.