Jennifer graces the January cover of Elle Magazine and looks amazing as usual. Still, she seems to think she doesn't have any fashion sense and says that the whole thing really frightens her. She tries not to worry about it too much and even uses Rachel Zoe for red carpet events. Who knew that Zoe would have a healthy client on her list? As for how she feels about Bennifer or shall we say the original Jennifer in Ben's life, well it looks like she is being safe on that topic. Here's more: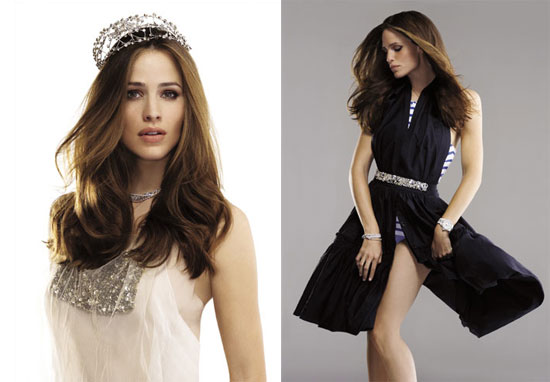 "I'm not going to go there," Garner says demurely. "That's his life and his past. He has always been so respectful of her, and in turn I'm going to be respectful of him." And of the rumor that she turned down the part of Pamela Ewing in the big-screen remake of Dallas because Lopez was attached to play Sue Ellen? "What? That's crazy. No, no, no. No one offered me any role. That's totally silly."

Indeed, while the first Bennifer seemed, well, like a four-minute music video, Bennifer Part Deux is apparently more of a 1950s domestic comedy. Garner gardens, waxes rhapsodic about the recipes in The Foster's Market Cookbook ("chicken, spaghetti squash, roasted tomatoes"), enjoys cleaning closets—"my former roommate will tell you that I was the person to scrub the bathroom"—and says a good date night with Affleck is if she's at the stove and there's Scrabble involved. As for her days, "most of the time by far I'm at home with my daughter," she says. "My husband is superinvolved and very present, so I don't have that feeling of wandering around the house bumping into things. I have just enough stuff that gets me out where I feel like, Oh look, I exist in the world."
This girl is all class. People may call it boring, but I think she's fabulous. For more wonderful pics of Mommy Jennifer, just read more