Jennifer's a Glamorous Goody-Goody
Jennifer's a Glamorous Goody-Goody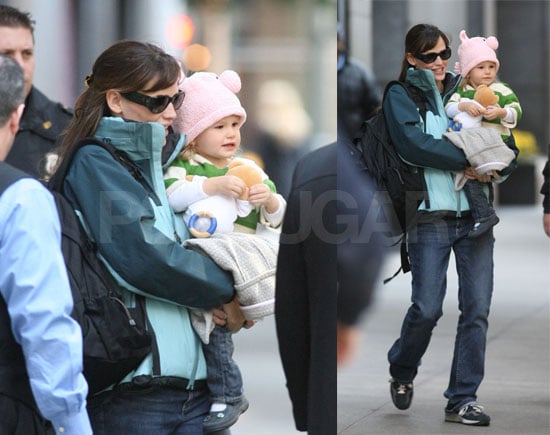 0
Jennifer's a Glamorous Goody-Goody
Before heading to last night's Glamour Awards, Jennifer Garner spent the afternoon at a NYC playground with Violet in her adorable rugby shirt and pink-eared cap. Beyond talking about her red carpet habits, Jennifer opened up to Glamour about being a goody-goody, feeling awkward and how she sometimes has to point out her hotness to her husband. Here's more:
On being a goody-goody: "You totally called me out. I am a bit of a goody-goody. Not that there aren't times when I think, I was kind of an a****** today. I work in a world in which people are really catered to; someone will come up to me and say, "Is it OK if this person's makeup is done before yours for the premiere?" Right now Ben's in Africa studying malaria and visiting slums with a lack of potable water and maternity wards where many women have HIV. So would I really put my energy into worrying that I'm second to get my makeup done? When you think about the bigger picture, it's hard to not have some perspective."
On feeling awkward: "Trust me, I can be awkward. I tend to make big gestures. Ben and I went to a Red Sox game, and when the mascot came up to us, I hugged it. The pictures showed up everywhere. Ben and I were both like, 'Ooh, too big of a gesture.' Why did I have to hug the sock? Just say hello like a normal person."
On getting Ben's attention: "We'll be going out to some event, and I'll have my hair and makeup done and I'll literally have to say, 'Hey, look at me!' But it works in my favor, too, since most of the time I'm a schlep!"
While we think she meant "schlub" rather than "schlep" it's no secret that Jen likes to keep her casual wear low key. Besides we doubt Ben would overlook how gorgeous she looked last night.
To see more of Jennifer and Violet out in NYC just