Jennifer Lawrence Interview at Oscar Luncheon
Jennifer Lawrence Talks Award Show Prep at Oscars Luncheon: "Eating Normally Calms Me Down"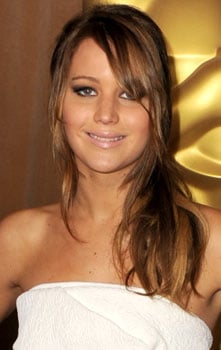 Jennifer Lawrence was one of the many stars to stop by the Oscars luncheon at the Beverly Hilton in LA today, and the best actress nominee was predictably candid talking about the upcoming Academy Awards. The Silver Linings Playbook star joked about what she's thinking of wearing, how her family doesn't let the award season accolades go to her head, and what she'll do on the day of the Oscars.
Joking about what she's going to wear on Oscar night: "I'm going to wear sweatpants! Yeah, I've been thinking about it. We've gotten some sketches together, but nothing decided yet."
On whether she'll go for comfort or fashion at this year's event: "Last time [when she was nominated in 2011] was comfort, and this year I'm like, 'Suck it up. Wear a corset!' I'm going to go for fashion this time. I say that, and . . . that's the problem with the Oscars. They're at the end, where you're exhausted from dressing up."
On her family's reaction to her nomination: "It's actually really calm in my household. I think that no one in my family fully absorbs [it] . . . They don't get it. It's very calm and I can talk about other things than myself in my house, which is great. Then the night of the Oscars, everyone just gets wasted and has a blast."
On how she'll stay calm before the show: "Eating normally calms me down. I remember before the Oscars [in 2011] I was wearing that skintight dress and eating a Philly cheese steak and fries, and I was like 'this is definitely going to help.' And it didn't. I had to double my Spanx."