Jennifer Lopez Talks Split in September 2011 Vanity Fair
Jennifer Lopez Talks Divorce to VF — Still Interested in the Details or Have You Heard Enough Already?
Jennifer Lopez is on the cover of Vanity Fair's September 2011 issue, and granted the magazine is her first interview since splitting from husband Marc Anthony. Inside the edition, she spoke about their breakup and what made her decide to walk away. There have been plenty of stories since the news broke last month about why J Lo and Marc ended things, and now she's giving her side of the story. Jennifer said: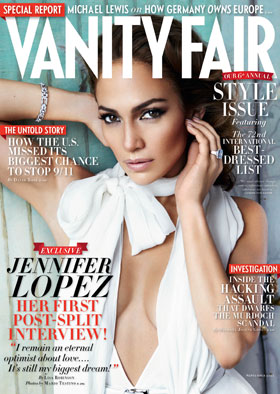 On knowing when to walk away: "It's not that I didn't love myself before. Sometimes we don't realize that we are compromising ourselves. To understand that a person is not good for you, or that that person is not treating you in the right way, or that he is not doing the right thing for himself — if I stay, then I am not doing the right thing for me. I love myself enough to walk away from that now."
On her feelings toward Marc: "I will always respect Marc as a singer and performer. We actually work great together, and he was always very supportive. Together we could make magic — and we did. He will always be in our lives. He will always hold a special place in my heart as the father of my children."
Jennifer remained vague on just what prompted her to split from Marc. We're wondering, though, if you're interested in the nitty gritty of the reasons behind the split, or is this explanation sufficient to put the topic to rest. So tell us what you think — are you still interested in the details of J Lo's split, or have you heard enough already?