Jennifer Meyer's Celebrity Baby Shower
Jennifer Meyer's Celebrity Baby Shower
Like Africa, another celebrity trend is to get pregnant before getting married. Jennifer Meyer and Tobey Maguire are the latest on that route. Jennifer's daddy is president of Universal Studios so she's no stranger to the A-list lifestyle. She has found her calling by creating an extremely successful and beautiful jewelry line. We know Jennifer Aniston is a huge fan and she was just one of the many who came out to Jennifer's baby shower this weekend. The girls-only "mellow" baby shower on Sunday also included Courteney Cox, Jennifer Garner, Kate Hudson, Nicky Hilton and more. The ladies took home fabulous gift bags, and Tobey even made an appearance at the end. Jennifer M. is one lucky spidey-lady! People reports: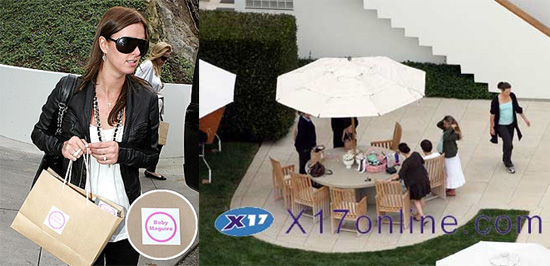 Around the Meyer family pool and lawn overlooking the Pacific Ocean (Jennifer's dad, Ron Meyer, presides over Universal Studios), the women passed the time swilling lemonade and eating such organic hors d'oeuvres as sesame shrimp and chicken skewers before the buffet lunch and lavish dessert table.

"It was a very mellow afternoon," says one guest. "It was a totally easy breezy, chill shower. No shower games. No present opening. Just hanging out."

Not that there weren't gifts. The mom-to-be got goodies from L.A. baby boutique Petit Tresor and parenting advice from Hudson, her friend since childhood.

Disobeying the women-only rule, Spider-Man star and dad-to-be Maguire poked his head into the party around 30 minutes before it wrapped up, only to be showered – appropriately – with kisses.
Sounds like my kind of shower. No games, no awkward present opening and just hanging outside with friends. Fun times. More pics from the fabulous party so read more