Jess, Dax and Dane: A Pleasant Surprise!
Jessica Simpson and Dane Cook were on TRL this week promoting Employee Of The Month, which opens tomorrow! Jessica (say something nice) stood out in her green jacket and thigh-high boots and as usual she made her famous funny faces. Dane is my new crush, he is just so darn cute.
I was lucky enough to catch an advanced screening of Employee Of The Month last night and I must say I was pleasantly surprised! The movie centers around the employees of a Costco-like warehouse store in middle America. Dax Shepard plays Vince Downey, the obnoxious Head Cashier who also happens to be the reigning Employee of the Month for seventeen straight months! Dane Cook plays Zack Bradley, a measly box boy who could not be happier about his low-profile status. That is until beautiful new cashier Amy, played by you guessed it, Jessica Simpson, transfers from store 262. The rumor is that Amy has a history of falling hard for whomever is named Employee of the Month. Energized by his quest to win Amy's heart, Zack decides to step it up and compete against Vince for the coveted title.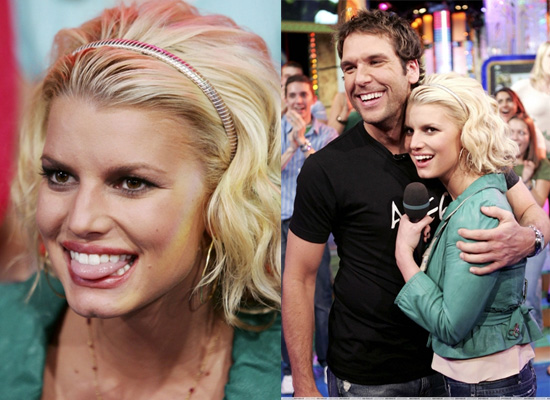 Like I said, I was pleasantly surprised. The movie was smarter and funnier than I expected and the interaction between Dax and Dane was brilliant. Jessica did not actually have any real lines until about half way through the movie and the story was really more about the competition between Zack and Vince and less about Amy. A fun, light-hearted movie that will not disappoint! Besides, if The Departed is sold out then this is a funny alternative if you have your heart set on going to the movies this weekend.
Lots and lots more pics of Dane and Jess on TRL, so read more