Jessica Biel Finds a Match
Jessica was seen taking a break on the set of I Now Pronounce You Chuck and Larry. The film, that also stars Adam Sandler and Kevin James, is about two straight guys who pretend to be a gay married couple to get benefits. Jessica plays the lawyer who represents them. Besides her movie career, Jessica has been keeping busy off the set as well, and not only by spending her days doing lunges and squats. Rumor has it she is now dating Derek Jeter. Page Six reports: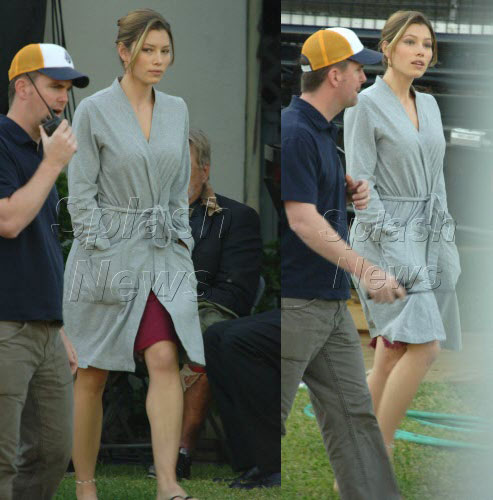 The Yankee shortstop went out in L.A. Tuesday night with his new squeeze, Jessica Biel . According to our spy, the couple were huddled in a corner of hot club Hyde, "laughing and giggling together." At one point, Jessica, voted Esquire's "sexiest woman alive" in 2005, went to the restroom and three girls quickly scurried over to chat with Jeter. But as soon as Biel returned, he put all his attention on her. The two left together. A Biel rep didn't return calls.
It's perfect that Jessica has found someone just as athletic as she is. I wonder if they spent their first date together at the gym. I guess that means she and Zach Braff are just friends.