Jessica Biel For Gotham Magazine June/July 2009
Jessica Is Still Trying to Prove She's More Than a Pretty Face
Jessica Biel got sexy loosening up her buttons for the June/July issue of Gotham magazine. Most of you are tired of hearing her talk about how hard it is to be beautiful, but it looks like working it for the cameras came easily to her for the photo shoot. In the article she has more to say about being a sex symbol, living in NYC, and her latest movie role. Here are highlights: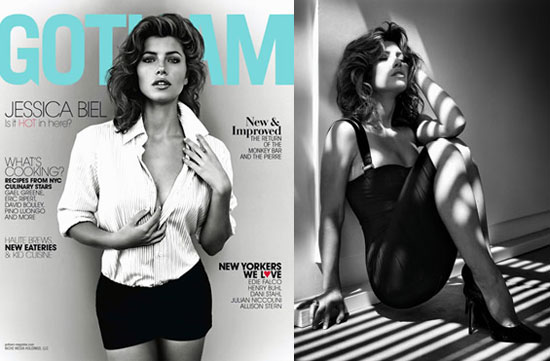 On NYC: "I really like just wandering around, finding a shop, sitting down, having a coffee, reading something, getting lost, grabbing a cab. That's so fun."
On her sex symbol status: "I don't really think about those things and think, Oooh, yay—I've made a mark, all right. But balancing the idea of being very sexy and then also being really attainable, kind of like a girl-next-door quality, is I think really important. To be able to bounce back and forth. [Because sometimes] the interesting characters are dark, conflicted…tortured souls; those are the characters I'm most interested in playing."
On her role in Easy Virtue: "I thought she was pretty amazing. She's so effortlessly witty and sarcastic and fantastic and glamorous and tough—all the characteristics that I want to be as an actual woman. And she's cool as a cucumber…but at the same time extremely vulnerable, and a real person who is hurt by these experiences. She's not just a stone."