Jessica Chastain Golden Globes Press Room Quotes
Jessica Chastain Celebrates Globes Win and Her "Marathon" Career
Jessica Chastain racked up yet another award season win for her work in Zero Dark Thirty at this evening's Golden Globe Awards. Jessica was glowing and ecstatic about her award, though she did express her sadness over director Kathryn Bigelow's best director snub at the Oscars. Check out what Jessica had to say: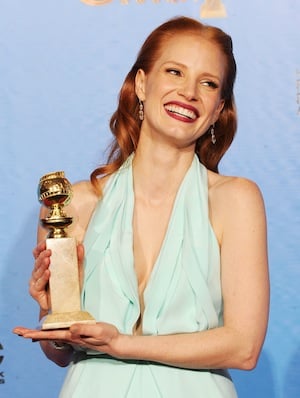 Jessica on her hopes for Maya in real life: "What I would hope for Maya is that she gets the respect from her colleagues and superiors at the CIA and they don't try to take credit for her work . . . and that she can go to any station in the world she wants. I hope she goes to Paris or something."
On realizing her dreams: "I've wanted to be an actress since I realized it was a job, but I didn't go to Hollywood when I was 7 years old. I trained at Julliard. I've really worked hard. I thought I was cursed for a while. Even after I thought I got my big break, my projects kept getting stalled. To see what's happened in the past two years, I've fulfilled a childhood dream. Because of last year, Kathryn Bigelow called me. Who's going to call me this year?!"
On her Oscar nod: "I think every actor would love to be acknowledged for [their work]. I'm a marathon runner. I want to be working when I'm 80 years old. Every support and encouragement helps you, but I'm a marathon runner."
On Kathryn's Oscar snub: "It was a bittersweet Thursday for me. We were on an airplane and then Kathryn came over to me and said, 'Congratulations, you got nominated for an Oscar,' and I wanted to scream, but I was worried I would be duct-taped to my seat by an air marshal. And I said, 'What about you?' and she said, 'No no, we are celebrating you.' It was a difficult moment for me, but the film and Kathryn were recognized with a best picture nomination."