So much Jessica news this week, we can barely keep up! Jessica and her Employee of the Month co-star, Dane Cook, were spotted "Canoodling" in a booth Wednesday night at a cast party at Tenjune in NYC. There have been plenty of rumors flying around all summer about the two making out in various places, so it's not completely surprising. Last night on Jimmy Kimmel Live, however, she claimed that she and Dane are just friends, despite their amazing chemistry on and off the set. Oh Jessica, you should not speak about being 'just friends' and 'amazing chemistry' in the same sentence if you don't want us to wonder. Here's more from Page Six: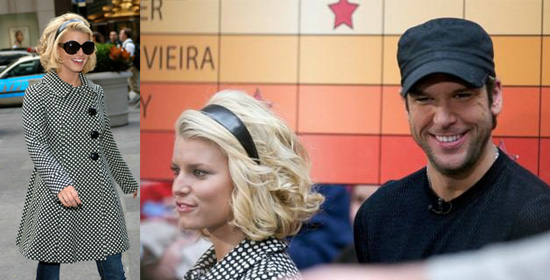 JESSICA Simpson renewed her love affair with her "Employee of the Month" co-star Dane Cook Wednesday night at the film's premiere party at Tenjune....Spies said they curled up in a booth and spent the evening "whispering into each other's ears. Dane couldn't keep his eyes off her and kept coming back to her every time he was pulled away." They finally left with Simpson's hairdresser Ken Paves.
Here are some pics of Jessica, Dax and Dane on the Today Show this week. I love her adorable fall coat and her headband. I think this is the best she has looked all week. My biggest question about this week-long publicity blitz for Employee of the Month is where is poor Dax Shepard? The movie is so much more about Dax and Dane than Jessica, but all we have seen all week is Jess being paraded around like a puppet.
Lots more pics, so read more