Jessica Dishes with Rachael Ray
Jessica and her boobs left Il Sole the other night but this morning you could see Jess on Rachael Ray's new talk show. The two chatted about everything from Jessica's favorite food, Velveeta cheese to her crush on Johnny Depp. Here's more: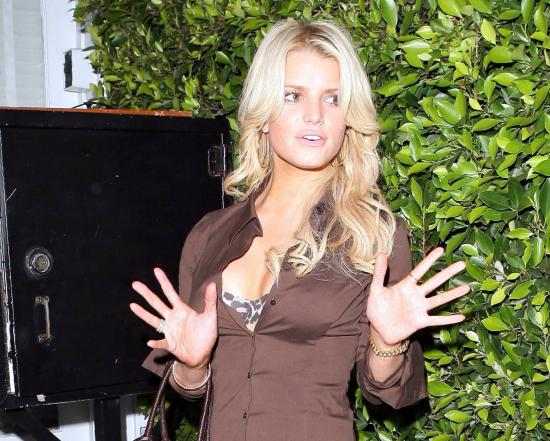 "I love Velveeta!" exclaims Jessica when asked what her favorite food is during the visit to Rachael's show. "Or anything fried. It's a Texas thing."

Speaking of dish, the gals also make time for a little girl-talk, with Jessica revealing that she has a thing for a certain celebrity, and recalls their first meeting.

"I made a fool out of myself in front of Johnny Depp," admits Jessica. "Dane Cook and I hosted the Teen Choice Awards and Johnny Depp made this surprise appearance and I was struck. I said all the wrong things and I ended up saying, 'Okay, I'm gonna shut up now and walk away.' I said it right to his face and it was so embarrassing."
Jessica attempted to make some food on the show but after watching Newlyweds we know she is not very good at it. Check out lots more sexy pics of Jess and Daisy in LA so read more