A mingling of Hollywood's youngest and most experienced came together over the weekend to celebrate some of the most respected members in showbiz at the Kennedy Center in DC. Five greats were honored: Dolly Parton, Steven Spielberg, Smokey Robinson, Andrew Lloyd Webber and conductor Zubin Mehta for their contributions to American culture and the arts. Reese and Jessica were both on hand to sing 9 to 5 in a tribute to Dolly Parton, a performance that should have been a happy one. But Jess evidently messed up the song and left the stage in tears. Here's more: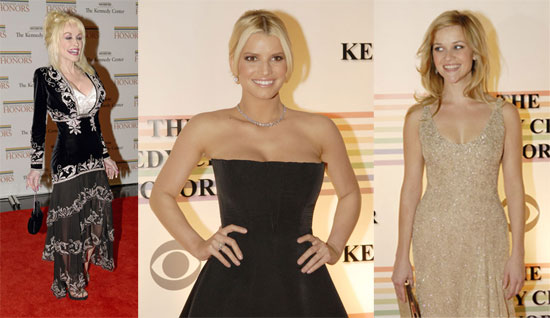 Simpson was on stage to sing Nine to Five as part of the tribute to Dolly Parton, one of the evening's five honorees. Simpson ended her performance abrupty with the words "so nervous" and quickly exited the stage. The stunned audience remained silent, giving her no applause.

Simpson appeared to be crying when she and other singers in the tribute returned to the stage.
How embarrassing! Poor Jess. She's a big fan of Dolly's and was even planning on going to Dollywood to perform with her friend. Hopefully this flub doesn't change her plans. Still, it looks like the show went on without her. It airs Dec. 26th at 9 pm on CBS. Lots more pics including Shania Twain, Aretha Franklin, Smokey Robinson, Barbara Walters, Natasha Richardson, Liam Neeson, Carrie Underwood, Dolly, Donna Karan, Fran Drescher, George Lucas, Steven Spielberg, Reba McEntire, Reese, Rita Wilson, Tom Hanks, Carrie Underwood just read more