Jim Carrey: Crazy Genius or Just Crazy?
Jim Carrey has worn a lot of hats in his career, stunning impersonator, shaggy haired eccentric, slapstick comedian, children's book caricature, and that's just the beginning. In recent years, the man who immortalized the phrase "laces out" has been somewhat of a recluse, with rumors of on-set "diva-like" behavior and "obsessive" tendencies following him from project to project. While he seems to have settled down and found something like love with Jenny McCarthy (over a shared passion for fabulous hair, of course), his past few movies have all been cancelled before coming to life, and his newest film, The Number 23, is independent and dark, hardly a typical Jim Carrey vehicle. In the upcoming Radar Magazine, they break down the mystique of Jim Carrey, and try to answer the question of whether he will ever return to his Dumb and Dumber roots: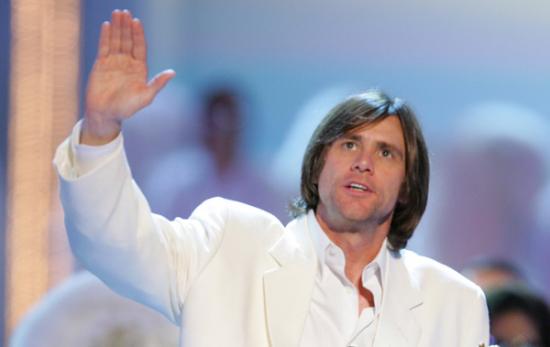 As he [shot a scene in 23], Carrey wrote on walls. He wrote on himself. And then, as the cameras rolled, he unzipped his fly and urinated. That last part wasn't in the script. Perhaps if Carrey weren't himself obsessed with the number 23, or if he didn't have a reputation for being both dark and obsessive, taking a leak on the set would have simply been regarded as an admirable commitment to his role–which is how dirrector Joel Schumacher sees it: "If Brando had done it in the early days, or De Niro, it would now be considered genius because they stayed in character."
"He's a tough guy to get along with, but he's not a dick," says a writer who's worked with him. "He doesn't kick people so he can feel better about himself."
"I've never seen a more meticulous re–hearser," adds director Brad Silberling (Lemony Snicket's A Series of Unfortunate Events). What appears to be an off-the-cuff performance "is like choreography.…He spends an unbelievable amount of time at home, alone, rehearsing."
Whispers about his behavior became painfully public during the filming of his last comedy, 2005's Fun with Dick and Jane, on which Carrey's delays and demands caused the budget to balloon dramatically. Production on the film was so traumatic that Dean Parisot, its genial director, began referring to the project as "Fun with Jane."
As a huge Jim Carrey fan, it's fascinating (if not, at times, troubling) to get a glimpse into his personal struggles with his craft and the feelings of those who have worked closely with him throughout the years. No doubt there will be many different Jim Carreys in the years ahead, and I can't wait to see any of his incarnations. And if I don't see you, good afternoon, good evening and good night.