Jimmy Fallon Tweets About Thanksgiving
The Funniest Celebrity Tweets of the Week
After Americans feasted on all the turkey and fixings they could stomach, Jimmy Fallon took to Twitter to highlight the one item we'll all want to buy after breaking bread on Thanksgiving. In other hilarious celebrity tweets this week, Chelsea Handler reminded us that, yes, she lacks a filter, Rebel Wilson offered a festive pickup line, and Dane Cook raised concerns about the family and friends who dined with him.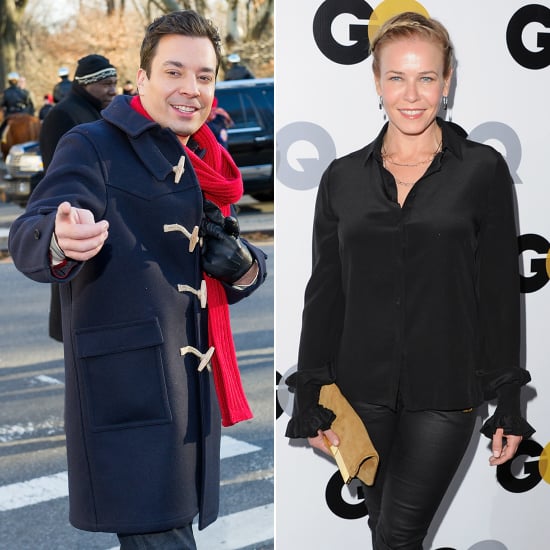 Check out all that and more in our favorite funny tweets from the week!
Jimmy Fallon might need a pair of eating pants.
Thank you, the day after Thanksgiving, or as the makers of sweatpants call it, "the busy season." #ThanksgivingThankYouNotes

— jimmy fallon (@jimmyfallon) November 28, 2013
We wonder what Chelsea Handler let slip at the Thanksgiving dinner table.
I need auto correct for my mouth.

— Chelsea Handler (@chelseahandler) November 28, 2013
Ellen, look into some Netflix gift cards.
I'm out to get some Black Friday deals and I'm first in line! I can't believe there's nobody else at this Blockbuster yet.

— Ellen DeGeneres (@TheEllenShow) November 29, 2013
For an Australian, Rebel Wilson has a good understanding of American traditions.
New pick up line to try today: "Hey, are you a turkey? Because I want to gobble you up and then fall asleep."

— Rebel Wilson (@RebelWilson) November 28, 2013
Lena Dunham knows that clothes can change a man.
My father learned all these dirty jokes for Thanksgiving then wore a vest and didn't tell them.

— Lena Dunham (@lenadunham) November 29, 2013
Read the rest of the funny tweets after the jump!
We're glad we didn't RSVP to Dane Cook's dinner.
I've injected the turkey with sodium thiopental. This dinner's about to turn into an episode of Homeland.

— Dane Cook (@DaneCook) November 28, 2013
Someone might have a case of food envy.
Unfollowing lifelong friends & valued colleagues for posting pictures of food today. Think you get a pass on Thanksgiving? Think again.

— rob delaney (@robdelaney) November 29, 2013
Thanksgiving with the O'Briens was all about mixing traditions.
In honor of Hanukkah falling on Thanksgiving, I am going to spend dinner feeling guilty about everything I have to be thankful for.

— Conan O'Brien (@ConanOBrien) November 28, 2013
Mindy Kaling has some delicious dating advice.
Remember, this is the time of year when you might meet someone life-changing at a turkey curry buffet

— Mindy Kaling (@mindykaling) November 27, 2013
You can't pick 'em, Megan.
so grateful for 66% of my family

— Megan Amram (@meganamram) November 29, 2013
Turns out Kat Dennings is a baby-naming pro.
@WhitneyCummings @BethBehrs You should DEFINITELY name your first child Hyman Cummings

— Kat Dennings (@OfficialKat) November 29, 2013
Meeting the president comes with risks.
I hope my elbow bump with Pres. Obama does not cause international incident and hinder Iran talks.

— Steve Martin (@SteveMartinToGo) November 26, 2013
Bette Midler needs some wind beneath her wings.
It annoys me when people call me lazy. Just because my only ambition in life is to continue breathing.

— Bette Midler (@BetteMidler) November 29, 2013
We're totally on board with Sarah Silverman's casting ideas.
Just woke from a dream where I was watching a biopic of Linda Ellerbee starring Dame Judy Dench

— Sarah Silverman (@SarahKSilverman) November 19, 2013