Jimmy Kimmel Fake Twerk Video Tweet
The Funniest Celebrity Tweets of the Week
This week on Twitter, Jimmy Kimmel seized the opportunity to rub his epic twerk-deception into our faces, while we got the distinct feeling Joel McHale was trying to sell us something. Other celebrities were still not quite over the Miley Cyrus phenomenon; Damon Wayans Jr. imagined an alternate universe in which Miley doesn't rock the world with her twerking, while Chrissy Teigen helped us understand Miley's true (and shocking) intentions.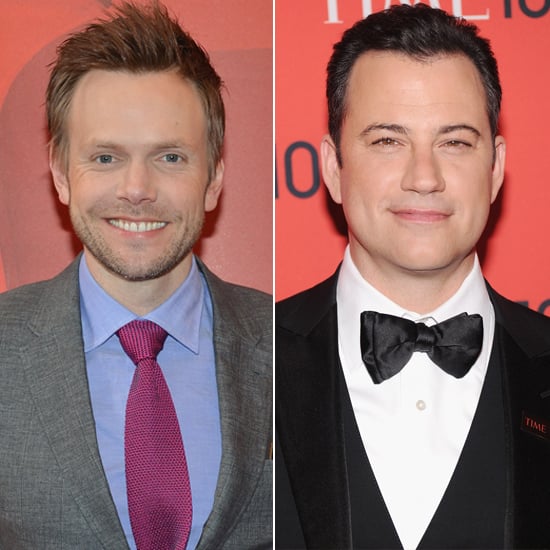 Check out all that and more in this week's most hilarious celebrity tweets!


If only . . .
"I wanna twerk, but I'm scared." - Miley SHYrus

— Damon Wayans Yunior? (@wayansjr) September 12, 2013


It doesn't, Jimmy. It doesn't.
if it makes you feel any better, I would have believed it too #twerkburn

— Jimmy Kimmel (@jimmykimmel) September 10, 2013


I feel like my whole life is a lie.
oh no I actually have to grow up sometime

— Mindy Kaling (@mindykaling) September 10, 2013


Check out the rest of the tweets after the jump!


It's a sad day for Beetlejuice. And Robin Thicke.
Pinstripe suits are the adult version of Ed Hardy. Letting chicks know you're a douchebag from 100 yards away, just more expensive.

— Anna Kendrick (@AnnaKendrick47) September 11, 2013


Hold on guys, I really have to go buy this thing:
September 12, 2013


One time, European sizes made me eat a lot of ice cream and cry myself to sleep.
European sizes are mean.

— Samantha Bee (@iamsambee) September 10, 2013


I feel really blindsided by this news. I'm going to need a little time to process.
Hey fyi did you guys know that miley cyrus is no longer hannah montana I wasn't sure if u knew because of her subtlety and stuff

— christine teigen (@chrissyteigen) September 9, 2013


No wonder I feel like I'm slowly dying!
Today's forecast: Exhaustion.

— Jim Gaffigan (@JimGaffigan) September 12, 2013


One of life's greatest mysteries.
"Sometimes I wake up and just wonder what Venus Williams is doing right at that second" --the best thing my father ever said

— Lena Dunham (@lenadunham) September 9, 2013


Weird, that's not how I remember the commercials at all.
Maybe it's food poisoning or maybe it's Maybelline.

— Michael Ian Black (@michaelianblack) September 10, 2013


Don't put ducks in a box, Stephen. Let them dream.
If it walks like a duck, it's probably some kind of land duck, cause i'm pretty sure ducks fly.

— Stephen Colbert (@StephenAtHome) September 13, 2013


Does someone want to go check on Chris D'Elia and make sure he's OK?
It's like I've always said, keep your friends close and your enemies clo-- OKAY GUYS JUST GOT STABBED BY AN ENEMY! ABORT! ABORT!

— Chris D'Elia (@chrisdelia) September 12, 2013


Are you kidding? Kate's hair even looked perfect the day after giving birth. Not possible.
Just once I'd like to see the headline "Kate Middleton Looks Like Shit, Snarls at Onlookers."

— Diablo Cody (@diablocody) September 12, 2013


Am I the only one who feels like having a lawyer named "Blunt" might not be the best thing?
I feel like Krasinski & Blunt would be a really good law firm.

— Busy Philipps (@Busyphilipps25) September 12, 2013


Ear hair is so rude and has the worst timing:
Ear hair? Really? Thanks. Thanks a lot.

— Mark Duplass (@MarkDuplass) September 12, 2013


It's just so tart and refreshing!
It's Arnold Palmer's birthday! Half of this tweet is a birthday message. The rest is iced tea.

— Ellen DeGeneres (@TheEllenShow) September 10, 2013


Seriously, I think I saw one of them boarding an international flight to who-knows-where.
My eyebrows are everywhere this morning

— Kat Dennings (@OfficialKat) September 10, 2013