John Mayer Outside Bungalow 8 After Costume Institute Gala
John Mayer's Magical Transformation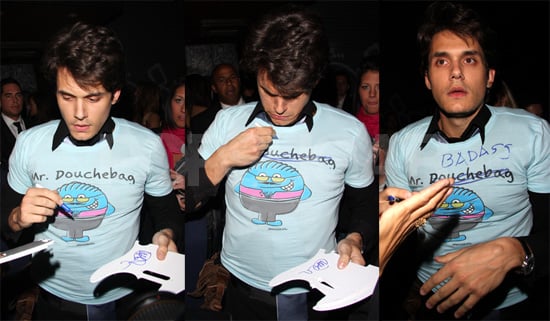 0
John Mayer's Magical Transformation
John Mayer was a good sport last night signing autographs outside of Bungalow 8 in NYC, where he partied after making a cameo at the Costume Institute Gala. When John received a not-so-flattering T-shirt from a fan, he did a little customization to make it more his style. Douchebag isn't the first word that pops to mind when thinking of John, but Giggle features some big ones in her Who's Douchier? game. John also took some questions about Jennifer Aniston in stride yesterday, saying,
"Listen, this is not a scandal, this is not an issue, this is not a problem, this needs no spin control. This is me living my life and a guy with a really powerful lens and I don't fault him, I don't fault anybody, I don't fault you, I don't fault this or that. There are much worse problems in the world. Everything's cool!"
Got to love how John can just go with the flow — with his relationships and his wardrobe. Apparently he also gave two thumbs up to his pictures with Aniston. We couldn't agree more, so we hope the new rumors of his flirting with random blondes are not true.