Johnny Depp and Amber Heard Divorce Details
Johnny Depp and Amber Heard's Contentious Divorce Has Been Finalized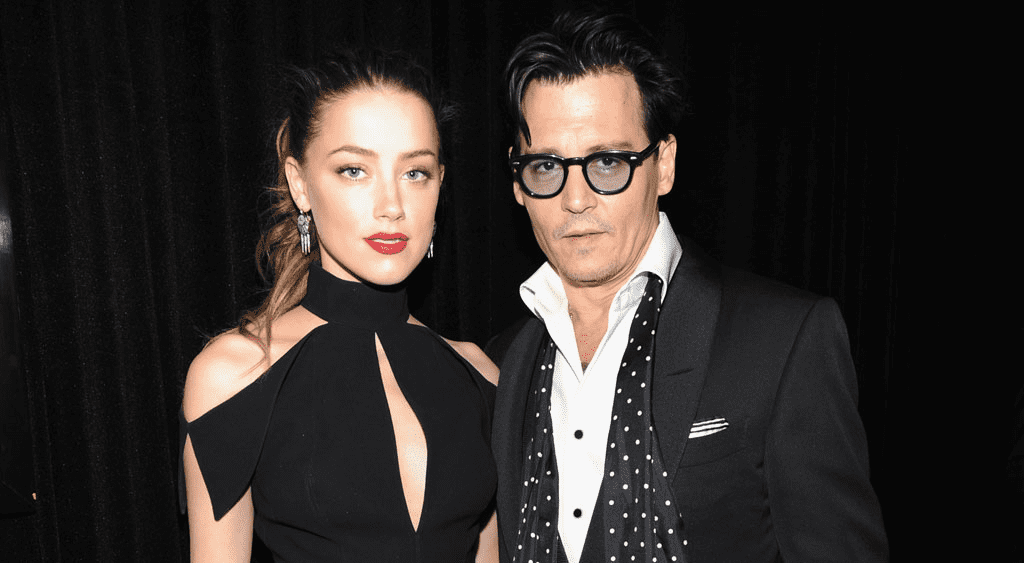 In late May, news broke that Amber Heard had filed for divorce from Johnny Depp, whom she married in a lavish island ceremony in February 2015. Although the couple had seemed happy and the news came out of left field, Amber, 30, also filed a restraining order against the 53-year-old Alice Through the Looking Glass actor, which included allegations of domestic abuse. After much back-and-forth, the former couple finally finalized their divorce in Jan. 2017. Keep reading to see the most important information about their relationship and the events leading up to their settlement.
This post has been updated with new information.
Amber files for divorce from Johnny. Three days after Johnny's mother passed away, Amber filed for divorce on May 25 and cited irreconcilable differences in her petition. The couple has been married for 15 months and has no prenuptial agreement.
Johnny speaks out about the ordeal. A short statement given through his representative to Us Weekly on May 26 that said: "Given the brevity of this marriage and the most recent and tragic loss of his mother, Johnny will not respond to any of the salacious false stories, gossip, misinformation, and lies about his personal life. Hopefully the dissolution of this short marriage will be resolved quickly."
Amber is granted a restraining order from Johnny. The Magic Mike XXL actress filed a domestic violence restraining order accompanied by graphic photos of her bruised face on the morning of May 27. A source told People that the bruises aren't a rare occurrence, saying, "This was not an isolated event" and that "this was only the latest incident." Later that day, Amber was photographed coming out of court after a judge granted her request for temporary order.
Johnny was photographed fitting an elderly woman with a hearing aid on the afternoon of May 27, during a visit to Lisbon, Portugal, with his band, The Hollywood Vampires. Later that evening, Johnny performed at the Rock in Rio festival and was pictured with his bandmates ahead of the show. While he has yet to release a statement about Amber's claims or the restraining order against him, a judge denied Amber's request for sole possession of their dog, Pistol, stating that there was "insufficient showing of need to protect pet dog."




Vanessa Paradis and Lily-Rose Depp come to Johnny's defense. Upon hearing about Amber's domestic violence allegations against Johnny, both the actor's ex-partner and daughter penned notes in his support. On May 27, Vanessa wrote, "I believe with all my heart that these recent allegations being made are outrageous," claiming, "In all the years I have known Johnny, he has never been physically abusive with me and this looks nothing like the man I lived with for 14 wonderful years." Likewise, Lily took to Instagram and shared a childhood photo of her and her dad, along with a note that read, "My dad is the sweetest, most loving person I know, he's been nothing but a wonderful father to my little brother and I, and everyone who knows him would say the same."
Comedian Doug Stanhope claims Amber is blackmailing Johnny. In a guest column for The Wrap, Doug — who has been friends with Johnny for years — wrote at length about how he believes Amber isn't as innocent as she seems. "Amber was now going to leave him, threatening to lie about him publicly in any and every possible duplicitous way if he didn't agree to her terms," he said. "Blackmail is what I would imagine other people might put it, including the manner in which he is now being vilified."
Amber's lawyer slams blackmail accusations. Attorney Peter Sample was quick to shut down Doug's article about Amber with a follow-up statement to The Wrap that reads: "[The] allegations against Ms. Heard are absolutely and unequivocally false," adding that the claim she's blackmailing Johnny "has no basis in reality and is nothing but the typical celebrity muckraking for profit."
The legal team for Amber speaks out against Johnny. Lead attorney Samantha F. Spector and cocounsel Joseph P. Koenig provided an in-depth statement to Just Jared on May 31 defending the Magic Mike XXL actress. "As the result of Amber's decision to decline giving an initial statement to the LAPD, her silence has been used against her by Johnny's team. Amber did not provide a statement to the LAPD in an attempt to protect her privacy and Johnny's career," they began, before ending the lengthy statement with, "We took the high road. Unfortunately, Johnny's team immediately went to the press and began viciously attacking Amber's character. Amber is simply a victim of domestic violence, and none of her actions are motivated by money. Amber is a brave and financially independent woman who is showing the courage of her convictions by doing the right thing against Johnny's relentless army of lawyers and surrogates. The Family Law Court is not going to be influenced by misinformation placed in the social media based on anonymous sources. Amber is the victim. Amber is a hero."
People reveals new photos of a battered Amber. A photo of a bruised Amber appeared on the cover of People's June 13 issue (which was released on June 1). In its exclusive photos, she has both a bruised eye and a cut lip. In its cover story, People also revealed details from the court papers, in which Amber alleges that Johnny showed up at her birthday party "inebriated and high" and "violently shoved me to the floor." She also states that Depp hit her with a cell phone.
Police are called to Amber and Johnny's home. According to reports, Amber's attorney called law enforcement on June 13, when Johnny's representative showed up to their home to retrieve his belongings. Officer Tony Im of the Los Angeles Police Department told Us Weekly that the move wasn't in violation of Amber's restraining order as neither one of the parties were home at the time. The officers simply stood by to "ensure that only the items listed in the court order were being removed."
Amber retracts her petition for spousal support. The actress's attorney filed a declaration to withdraw her request for spousal support from Johnny, saying the only reason she requested it was because she thought it was standard procedure in a divorce case. Amber, who wanted $50,000 per month from the actor, says the request is being "used against me to distract and divert the public away from the very serious real issue of domestic violence."
Amber plans to testify in court. "As of now, the plan is for Amber to testify on Friday," a source told Us Weekly on June 15. According to court documents, Amber stated she "could and would competently testify" if called as a witness. However, Johnny's attorney, Laura Wasser, also filed documents requesting that the court deny Heard's testimony if she failed to "appear for deposition" or did not "produce the requested documents at her deposition." There is no word yet on whether Johnny will attend the hearing.
Johnny files to keep divorce details private. On July 20, the actor's legal team asked a judge to order that his financial records be kept private throughout the rest of divorce proceedings. His attorney, Laura Wasser, argued that although Amber has the right to see his finances, the media does not. "Johnny is merely trying to protect the documents and information Amber seeks from unwarranted disclosure to the media and other individuals not involved in the case," she said in the official documents.
Amber accuses her ex of stalling their divorce. In documents obtained by Us Weekly on July 26, it was revealed that Amber has accused Johnny of stonewalling their split. "[Depp] and his counsel's demand for the execution of these two non-disclosure agreements which impose undue financial hardships and burdens on [Heard] are nothing but blatant threats by [Depp] and are illustrative of his continued attempts to thwart real progress in this case," they read.
The domestic violence hearing gets pushed back. A status hearing was held on Aug. 9, which resulted in Depp and Heard's domestic violence hearing being delayed. The reason for the delay seems to be that neither Depp nor Heard has completed their depositions. Depp's lawyer is requesting that Heard do hers first, and that there be time between hers and his. The hearing is now scheduled to take place on Aug. 17.
A disturbing video allegedly showing Johnny arguing with Amber leaks. A day before the actress was set to be deposed, a clip surfaced of Johnny throwing a fit over an unknown incident. In the footage, Johnny is seen slamming kitchen cabinets, breaking objects, and yelling at Amber as she appears to record everything on her phone. While many speculated that Amber leaked the footage, she denied those reports on Saturday.
Johnny and Amber settle their divorce. "Our relationship was intensely passionate and at times volatile, but always bound by love," the two said in a joint statement to TMZ on Aug. 16. "Neither party has made false accusations for financial gains. There was never an intent of physical or emotional harm." According to TMZ, the actress also withdrew her request for a domestic violence restraining order with prejudice, meaning she cannot refile the case.
Amber's lawyer retracts her statement. After resolving the divorce on Aug. 16, Amber Heard's attorney, Samantha F. Spector, took back her client's previous statement about the settlement. "The statement is untrue and we retract it, without qualification," she told ABC News. "My assertion that Amber Heard has been vindicated in the court of public opinion is not true. We regret the error and apologize to Johnny Depp."
Amber donates her $7 million divorce settlement to charity. In a statement to People on Aug. 18, the actress revealed that the money would be divided amongst charities with "a particular focus to stop violence against women," including the ACLU and the Children's Hospital of Los Angeles, where she has volunteered for over a decade.
Johnny refuses to finalize the divorce and donate the settlement. Their divorce hit another snag on Dec. 14 when it was revealed that Johnny still hasn't donated all of the money he owes Amber. In legal documents obtained by E! News, it appears the Pirates of the Caribbean actor is not only pushing back against finalizing the agreement, but has violated a court-allotted timeline of requirements that includes "the division of personal property, shipping [Amber's] belongings from his private island in the Bahamas, transferring a Range Rover into [Amber's] name and Johnny's outstanding debts incurred from cars, Neil Lane jewelry, and stylist fees." So far all he's done is pay the initial $200,000 donation, so Amber and her legal team are fighting back.
Johnny wants Amber to pay legal fees toward his attorneys' fees and costs. In new court documents filed by Johnny's divorce attorney, Laura Wasser, on Tuesday, the actor is asking that the court order Amber to pay $100,000 toward his attorneys' fees and costs. He also wants that amount deducted from his next divorce settlement payment if Amber fails to pay within 10 days of the court's order.
Amber's attorney hits back with a spirited reply. In response to Laura Wasser's filing, Amber's attorney Pierce O'Donnell gave a statement to Us Weekly about how they intend to proceed. "After his string of recent setbacks at the box office, I'm glad that Johnny Depp seems to have rediscovered his comic touch with this laughable motion," he said. "It is just another lame attempt by Mr. Depp and his team to not pay my client the money she is owed. We look forward to prevailing in court — and to getting sick children and women in need the money that Mr. Depp is denying them."
Johnny's team claims Amber just wants her 15 minutes of fame. In new documents obtained by E! News in December 2016, Johnny's team states that Amber is using their divorce to seek more fame. "Her request is entirely unnecessary under the law and suggests a last-ditch effort to garner media attention and somehow further her public persona by virtue of proximity to Johnny Depp. From the inception of this dissolution Amber has sought to build a case in the court of public opinion," the documents state. "Amber is now courting renewed media attention with this unnecessary Request for Order. Her application is not only a blatant attempt to extend her fifteen minutes of fame but also a waste of the Court's limited time and resources and an embarrassing grab for addition and unwarranted attorney's fees."
Amber fires back. In response to Johnny's statement, the 30-year-old actress claims Johnny and his team "seem to wish to prolong this proceeding as a means of punishing me." Amber, who is asking the court to deny Johnny's request and award her $36,475 in attorney's fees, says, "I want to be divorced from Johnny now." Amber's attorney, Pierce O'Donnell echoed her response, stating that his client "wants the prompt dissolution of marriage." He also alleged that Johnny has "frustrated the final settlement of this matter at every turn through his relentless, mean-spirited campaign against Heard."
Their divorce is finalized. After months of contentious arguing, TMZ reports that Amber and Johnny will officially be single by the end of the day on Jan. 13. Johnny has agreed to pay Amber $7 million to settle the divorce, and both will foot their own legal bills.