Johnny Depp Gives and Receives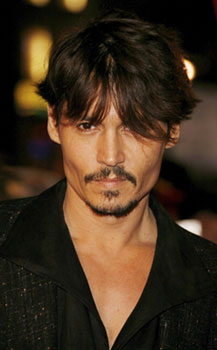 Most of you were missing the Golden Globes as much as we were last night, and one of the biggest letdowns was that we couldn't see our favorite stars accept their trophies. It seems that Johnny Depp was also sad about missing the opportunity to make an acceptance speech, and decided to release a full statement thanking his family, friends and co-stars for his first ever Golden Globe win.
Johnny is obviously very appreciative of his first Golden Globe, but he's still giving thanks for another gift he received last year. Yesterday he donated $2 million to the Great Ormond Street Hospital, where his daughter Lily-Rose was treated during her health scare back in March. He's been a frequent visitor of the hospital, reading the patients bedtime stories and inviting doctors to his movie premieres. Could he be any more amazing? We're so happy for Johnny and his big win, and hope that maybe he'll get the chance to make a real acceptance speech come Oscar time.
To read Johnny's full statement, just read more
"I would like to thank my beloved friends at the Hollywood Foreign Press Association for bestowing such an honor on me. It is a humbling experience, especially in the company of such talent. For many years the HFPA has supported my work and for that I have always been truly grateful. While this is indeed a happy day for me, I am overjoyed at the recognition the film as a whole is receiving. Tim [Burton] is a dear friend and a true artist whose vision and skill inspire us all. He is a genius. Without his unwavering trust and support, I would not be anywhere near where I am today."
"Also, big thanks and respect to Helena [Bonham-Carter], whose simply staggering performance as Mrs. Lovett is a wonder to behold. I must send a behemoth salute to the wonderful crew and cast of Sweeney Todd and all at Dreamworks/Paramount and Warner Bros. Pictures. In addition, I'd also like to extend my sincere gratitude to, first and foremost, my cherished friend and agent of forever ago, Tracey Jacobs; the extraordinary man and producer, Richard Zanuck; the mastermind Stephen Sondheim; and, of course, my precious family, Vanessa, Lily-Rose and Jack, for all of their love, support and pure and absolute happiness everyday. Overall, I believe it to be a proud achievement for everyone involved and on behalf of us all, I thank you."