The Jolie-Pitt's Christmas Present
The Jolie-Pitt's Christmas Present
Angelina and Brad may be the next celebs to adopt a child from overseas... again. Apparently this one is coming from India and they are hoping they'll be able to bring their new addition home by Christmas. And Brad and Angelina may be having a battle of the sexes. Here's more: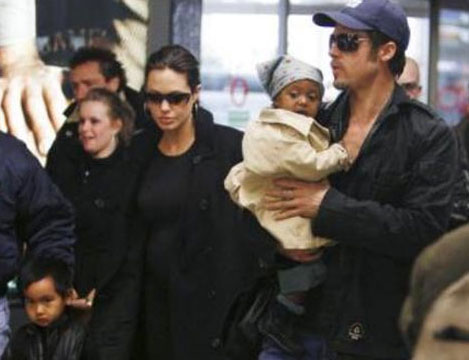 "Brad would prefer a boy no older than 18 months to even out the sexes but Angie has told him she can't guarantee she won't fall in love with a little girl."

The source told US magazine Globe: "Whichever they end up with, they'd like to name the child India to honour its homeland." The pair are rumoured to have visited the Priva Darshini orphanage in the last month.

She and actor Brad Pitt, 42, had a daughter together, baby Shiloh Nouvel Jolie-Pitt, in May 2006. Angelina, 31, has declared that she'd like kiddies from all over the world. She has said: "I want to create a rainbow family. That's children of different religions and cultures from different countries." "I believe I'm meant to find my children in the world and not necessarily have them genetically."
It's great that they want to help all these kids and have a great family but isn't one kid a year enough?