Brad and Angelina arrived in Pune, India today where filming begins for their new project. Angelina is working for Brad, staring in the Plan B produced movie A Mighty Heart. The two arrived by private jet and security was of course super tight. In fact, it was so tight they had to make their exit with the cargo. Here's more: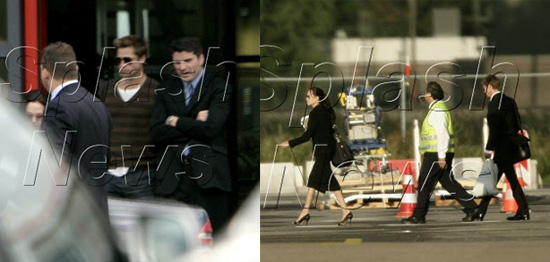 Brad Pitt and Angelina Jolie were in India on Friday, preparing to shoot scenes for their movie on the life of slain journalist Daniel Pearl, a member of the film crew said. Pearl, a Wall Street Journal reporter, was kidnapped and murdered in Pakistan in 2002 while researching a story on Islamic militancy. The set manager said the Pune bungalow was chosen becomes it closely resembles a home in Karachi, Pakistan, where Pearl and his wife spent time.

Security for the star couple was so tight that their arrival in Pune by private jet Thursday was missed by television reporters and journalists waiting at the airport. "They were whisked out of the airport from the cargo section so that the press and no one else could catch a glimpse of them," said Deepak Shastri, the airport director.
Lots more pics so just read more