Jolie-Pitt Weekend Getaway
The Jolie-Pitts are getting completely mobbed all over India while shooting A Mighty Heart, so maybe that's why the family took a little break for some R&R over the weekend. Apparently they checked into a resort on Friday in North Goa, a spot known for attracting the rich and famous. Angelina even picked up a few new fabulous outfits while on her weekend getaway. How cute is Brad protecting his children? Here's more: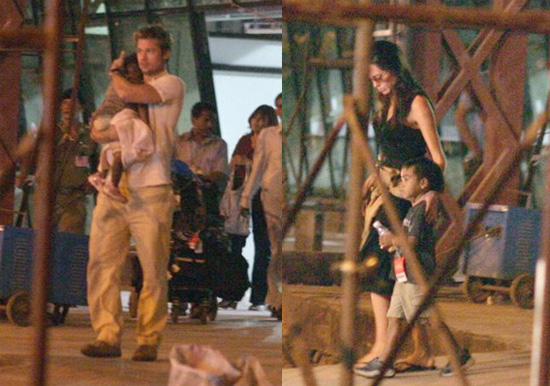 Goa's fame has traditionally beckoned the rich and famous and Hollywood stars Brad Pitt and Angelina Jolie were the latest entrants in Goa's notable guest list. According to sources, the Hollywood couple — who are in Pune to shoot for 'A Mighty Heart', based on American journalist Daniel Pearl who was abducted and killed by Islamic extremists in Karachi in 2002 — arrived on a weekend visit to the State by a special chartered flight at about 9 pm on Friday.

They are reported to have checked into a resort in North Goa. During their stay in Goa, Pitt and Jolie are likely to attend a dinner hosted by a liquor baron at his villa in Candolim, which will include VVIPs from Maharashtra. Pitt and Jolie are expected to return to Pune on Monday. Incidentally, Jolie was captivated by Goa's charm in Pune itself. During her stay in Pune, sources said Jolie was impressed with the creations of Goa's famed fashioner designer, Wendell Rodricks, and is reported to have picked up a few Wendell outfits.
More pics of the fam so read more