Jon Hamm Interview About Hosting the ESPY Awards
Jon Hamm on Hosting Tonight's ESPYs
The ESPYs are airing tonight, with Jon Hamm as host. This will be the Mad Men star's first time hosting, taking the reins after Rob Riggle in 2012 and Seth Meyers in 2011. Jon hopped on the phone to talk to reporters about Justin Bieber's Stanley Cup stunt, hosting the show in light of the Aaron Hernandez controversy, and how he's had "home-run" moments of his own in his acting career. Read on for the tidbits he dropped about hosting the ESPYs below.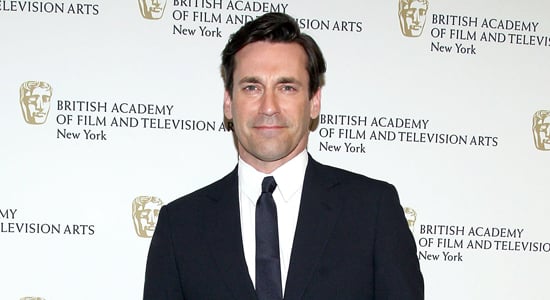 How did you feel about Justin Bieber touching the Stanley Cup?
Jon Hamm: Pretty much, I'm not personally affected by anything Justin Bieber does. But, well, he stepped on the logo — that was bad news. He's Canadian! He should know these things! But he may have just been caught up in the moment.
Was there a moment in your career that felt analogous to a "sports hero" moment?
JH: I remember when I got the pilot for Mad Men, thinking, "This is amazing, this is going to be great!" And then 30 seconds later going, "I got this part; I'm going to actually have to do this now." It was daunting. The first day on set, the first setup, the very first shot was me walking into my office, probably lighting a cigarette, taking my shirt off, taking a new shirt out of the drawer, unbuttoning it, putting it on, retying my tie, putting Alka-Seltzer in a glass, drinking Alka-Seltzer, putting the cigarette out, all while saying the lines, and all in one continuous take. And I thought, "OK, if I can get through this, I'll be able to do anything." You feel good when you nail a scene, when you feel like you rocked it. I've had a few moments like that in my life as an actor, very fortunately.
How do you feel about hosting the ESPYs in light of the Aaron Hernandez controversy?
JH: Well, it's obviously a terrible story. It's certainly not the first terrible story that's been involved with sports. . . . Again, the focus on the night is not going to be about a burden; it's going to be about the incredible, positive things that the sports world has brought us. My job as a host is not to be an investigative journalist, so that's pretty much all that needs to be said.
How does it feel to host an award show versus hosting Saturday Night Live?
JH: The ESPYs are an award show, and we're first and foremost there to celebrate the achievements of the athletes that are in attendance. Ideally, it could be entertaining, funny, and lighthearted, but the main thing is to celebrate what these incredible people have done. When you look back at other hosts . . . the best ones always keep it moving, keep it light, give you a few laughs, and don't forget why they're there. It's not going to be the Jon Hamm show, nor should it be. So that's my job, that's my marching orders.
You can catch the ESPY awards on ESPN tonight at 9 p.m.