Jude Law Finds New Ice Queen
For whatever reason, Jude Law looked cuter than he has in recent times when he landed at LAX yesterday. Perhaps a new lady friend can get some credit for the fresh-faced Jude? Rumor has it that the actor has started a new romance with Halla Vilhjalmsdottir (I almost know how to pronounce that), the host of Iceland's X Factor, an American Idol-type show. Who knows if they can communicate in any way beyond the universal language of love. Here's more: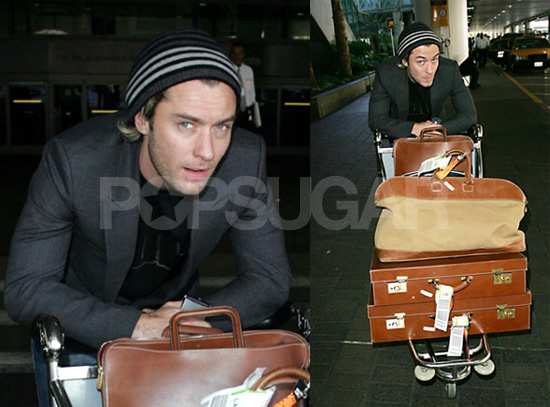 Halla, who hosts X Factor in Iceland, took the actor for a romantic dinner on Friday night, followed by a sweaty, intimate clubbing session.

And the smooching on the dancefloor was enough to make even an X Factor judge blush.

A clubber at the exclusive Sirkus bar in Reykjavik told me: "Jude found himself swamped by girls on the dance floor. But he was only interested in Halla — who was attracting plenty of attention herself because she is a big name in Iceland.

"They were getting very close and made themselves scarce shortly after — and it wasn't to get some fresh air."
Beyond her work with X Factor, Halla is apparently an aspiring actress (hey, it worked for Sienna Miller, right?), so she's got that going for her. Otherwise, I just hope for her sake that he keeps his paws off the nanny.