Julia Gets Honored by Friends and Co-Workers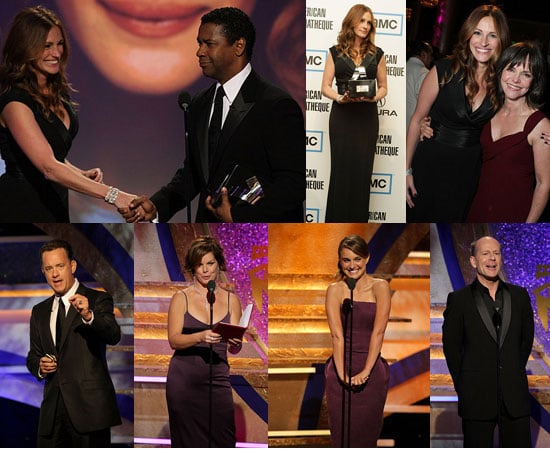 0
Julia Gets Honored by Friends and Co-Workers
Denzel Washington, Natalie Portman and Tom Hanks were just a few of the celebrities who came out to honor Julia Roberts with the 22nd American Cinematheque Award on Friday Night. Julia's friends had the chance to tease as well as gush about the actress, and Julia herself chalked up much of her success to her husband and family. She said,
"More than anything I am just the most proud wife and mother to three of the most amazing children. And the widening of my life, and my hips, is really just the true gift of my husband Danny (Moder), who I would be so lonely without."
We've been Julia's fans long before she became a mommy, but it's great that she's had as much success in her personal life in addition to her fabulous career. On top of this great honor and her personal happiness, there is also already Oscar buzz for her new movie co-starring Tom Hanks. To check out the movie that hits theaters Dec 25th called, Charlie Wilson's War, click here
Lots more pics including Dermot Mulroney, Shirley MacLaine, Rita Wilson and more so just
Images include Blair Underwood, Marcia Gay Harden, Bruce Willis, Denzel Washington, Julia Roberts, Tom Hanks, Natalie Portman, Rita Wilson, Dermot Mulroney, Gary Marshall, Sally Field, Shirley MacLaine.