Julia Is Hollywood's Most Famous Housewife
Julia Is Hollywood's Most Famous Housewife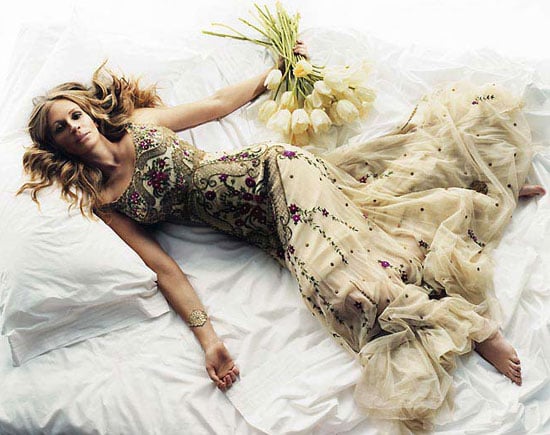 0
Julia Is Hollywood's Most Famous Housewife
Julia Roberts looks stunning all sprawled out in a dream-like photoshoot for the December Issue of Vanity Fair. We got a preview of the cover girl talking about her love for Danny Moder and appreciation for Natalie Portman, but she also dished about the environment, balancing her life between her family and career and who she wants to share the big screen with. Here are more highlights:
On who she'd like to star in a movie with::
"I would like to work with Johnny Depp. I've known him a long time. I think he's so interesting and I think we look alike in a funny way. So Johnny Depp. Johnny Depp and I will play brother and sister in something."
On talking to her kids about her job:
"I don't. I haven't had to. I just say, 'Mommy's going to work,' and they know that my work somehow involves a trailer. But when I played Joanne Herring, we had done some portraits of me, copying pictures of Joanne, to use around her house. So I brought home this picture of me in this emerald-green gown, and I have these big diamonds on and the nails and the whole thing. The picture was sitting on the dining-room table, and Finn and Hazel came to dinner, and Hazel said, 'Oh, look at that picture. Cuckoo Mommy.' I couldn't believe she even knew it was me."
Sounds like Julia's little ones are already smart little cookies just like their mom. As for working with Johnny we hope Hollywood is listening because the two of them together would be box office gold.
To see more of Julia's spread, just