Julie Bowen Emmy Press Room Interview 2012
Julie Bowen Shares Sofia Vergara's Fashion Advice: "You're a Woman, Dress Like One"
Like her Modern Family costar Eric Stonestreet, Julie Bowen won her second Emmy for outstanding supporting actress in a comedy. The actress stopped by the press room to joke around about how her last Emmy broke, so she'll keep this one much safer. She also talked about the current political atmosphere and said that she appreciates that Modern Family is a favorite of both Michelle Obama and Ann Romney, and she had nothing but kind words about her costar — and competition — Sofia Vergara.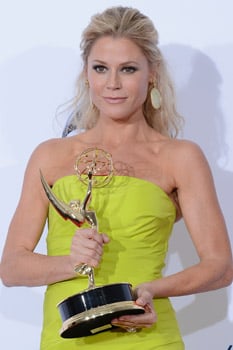 On Sofia Vergara: "She really doesn't get the credit she deserves as an actress. She certainly gets it as a celebrity, but as an actress, she really is talented and amazing. There's only a few of us, I think, who really understand that what she does is not just play herself. I love her, I really do. She is a gracious, wonderful woman, and is probably the only reason why I am able to wear a curvy fishtail dress. I owe her a lot."
On what she's learned from her character Claire: "Claire is a great mom and she's taught me to be ballsy, and [that] you don't have to be your kid's best friend. You don't have to look at every single crayon drawing and say, 'We're framing it.' I now go through the crayon drawings and say, Is it a treasure, or is it disappearing tonight into the magical trash can? Claire has given me that confidence."
On where she'll store her second Emmy: "High out of the reach of my son Oliver, who broke the last one. On a high shelf away from small children."
On the widespread appeal of Modern Family: "It's nice to take 22 minutes and get away from it all. We don't pretend to be important in the way that national matters are, but I love that both Ann Romney and Michelle Obama said that Modern Family is their favorite show. That says to me that there's a place on the couch where people can sit down and come together, and it just doesn't matter. Laughter is the only thing that matters."
On her Emmy dress and Vergara's fashion advice: "It was bold for me, but it's a classic shape, so as Sofia says [in an accent], 'Own it! You're a woman, dress like one.'"
On what TV shows she watches: "I've never missed an episode of Breaking Bad or Mad Men. Never, never, never, never."