Justin's Alpha Dog May be in Some Trouble
Justin's Alpha Dog May be in Some Trouble
Justin may be single now, but he sure didn't look sad walking down the red carpet solo to show off his latest project. Last night JT attended the premiere of his new movie Alpha Dog in LA. It's a film about the kidnap and murder of a Southern California teenager that actually did happen, and now the real life drama may cause the film's January 12th release to be delayed. Here's more: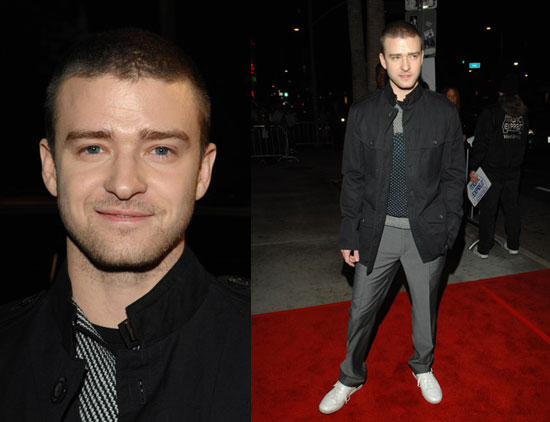 Despite having the characters' names changed, Hollywood is shown in a bad light throughout the film, attorney James Blatt said, and a jury pool could be tainted, infringing on Hollywood's right to a fair trial.

Universal Studios argued that prohibiting the public from seeing the movie would violate the First Amendment.

Last month, a federal judge refused to stop the film's release but Hollywood appealed the decision. The 9th U.S. Circuit Court of Appeals is expected to rule in the coming days.

"Alpha Dog" is based on the kidnapping and slaying of 15-year-old Nicholas Markowitz seven years ago. Prosecutors believe Hollywood, portrayed in the movie by Emile Hirsch, was the mastermind behind the murder plot. The teen's body was later found in a remote Santa Barbara County camping area.

Markowitz was killed as part of a feud Hollywood had with the victim's older half brother over a $1,200 drug debt, prosecutors said. Four others have been convicted in connection with the murder.
Let's hope nothing comes of this. We're really looking forward to checking out JT's new flick soon. We're betting it will be a good one based on the fabulous acting skills he showed off a few weeks ago on SNL. For now, more pics including Hank Azaria, Sharon Stone, Amanda Seyfried, Shawn Hatosy, Ben Foster and Emilie Hirsch so just read more