Justin Timberlake Talks About Inside Llewyn Davis at Cannes
Justin Timberlake and Carey Mulligan Talk About the "Warm and Fuzzy" Inside Llewyn Davis
Carey Mulligan, Justin Timberlake, Garrett Hedlund, and Oscar Isaac joined forces today at the Cannes Film Festival to promote their new Coen brothers film, Inside Llewyn Davis. The movie, which follows Oscar's character as a fictionalized, struggling folk singer in the 1960s, was one of the most anticipated of the day.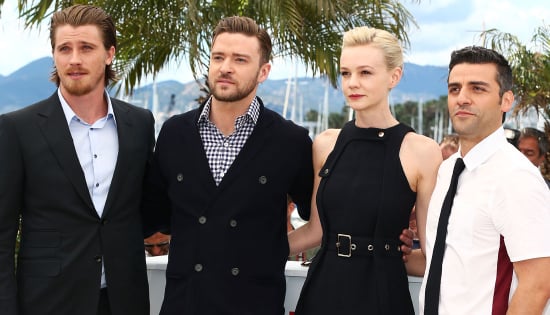 After a photocall by the beach, the cast and directors gave a press conference, where they talked about the familial bond they shared on the set and the vital role that music plays in the telling of the story. Here are some highlights:
Justin on his connection to the movie's music: "As far as singing in the movie, obviously on the surface, it's a different style from the music I make in real life. But listen, man, I grew up in Tennessee. Home of the blues, birthplace of rock and roll. . . . My grandfather [had] an old Gibson guitar — he taught me how to fingerpick. So it felt warm and fuzzy to me to be in this movie."
Carey on singing on screen: "I'm very nervous about singing in front of people. We had a week before we started shooting where we worked — what did we do? We all met up, and T-Bone produced the music and decided . . . what everyone's voice was going to sound like."
Oscar on the importance of music in creating character: "For everybody, the songs were what really showed you their inner life and their taste, their point of view. I saw it almost as much as a rehearsal for the personhood as the music."
Justin on making it as a musician: "There is sort of the Malcolm Gladwell 10,000 hours theory about how you can't consider yourself an expert at anything until you've kind of had 10,000 hours at it. I agree with practice. There's many people that spend that much time and somehow never get heard. You meet so many talented people along the way who for some reason or another don't get heard."