Justin Timberlake In Time Interview
Justin Timberlake Tapped Into His "Personal Demons" For In Time
Justin Timberlake is branching out into new territory with his action-heavy role in this month's thriller In Time. The sci-fi movie takes place in a future where time is currency — the richest can afford to live forever, but most people are lucky to make it through their 20s. Justin plays Will Salas, a working-class guy who sets off on a race against the clock after he's suspected of murder. We spoke to Justin at the movie's press day in Beverly Hills this weekend, and he told us the story's themes — as well as the chance to shoot guns and make out with leading lady Amanda Seyfried — drew him to the project. He also talked about why acting is more personal to him than music and even admitted he tapped into his own dark side to portray Will. Stay tuned later this week for our full interview with Justin and check out In Time when it hits theaters on Oct. 28.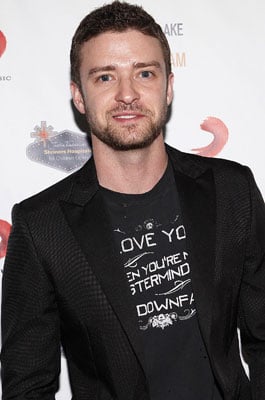 PopSugar: As someone whose own time is in such high demand, did the movie's theme especially appeal to you?
Justin Timberlake: I don't think I thought of it that way. When I read the script, for two or three days, I couldn't stop thinking about the themes — that one being one of them — but also our obsession with looking young forever. But I think honestly, the reason I inevitably was like, "I have to play this guy," was because I hadn't had the opportunity to play a character that, at the end of the day, I hope I would be like if my back was against the wall. And I just saw this character as an everyday man who gets pushed too far and decides to fight back. And then you keep reading and it's like, "Oh, yeah, shooting guns and car chases and flipping cars around and kicking ass and kissing Amanda." You know. You're kind of like, "Yeah, OK. I'm in."
PS: You've done some great roles in the past few years. What do you get out of acting that's different than what you got out of singing?
JT: Well, listen . . . I could give you nine things that are the same, or that I could find comparable, but I actually weirdly enough find acting [and] working on movies to be a way more personal experience than making music. I think that, at least for me, you get an idea for a song and then you make it sort of as fantastical and sonically otherworldly as you can. And you take a movie like this, and even though you're in another world, it's your job to be as grounded and real as possible, and a lot of the scenes in this movie for me were personal. I found myself accessing a lot of my own personal demons . . . fears, but also fantasies.