We didn't think Kevin Federline could sink much lower after his album failed and Britney dumped him in the same week. However, K-Fed proved just how desperate for a dollar he is these days by getting back into the WWE ring. This time he fought WWE champion John Cena. Here's more: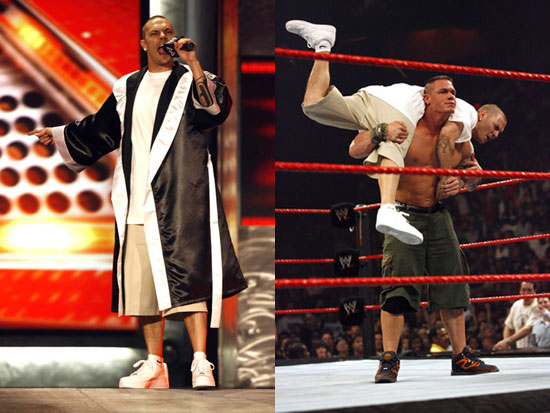 Clad in an oversize black-and-silver boxing robe and booed mercilessly by a crowd of more than 15,000 at the American Airlines Arena in Miami, Federline — who embodies what late wrestling legend Classie Freddie Blassie called "a pencil-necked geek" — insisted on being introduced as a "celebrated recording artist, dancer par excellence, and an entertainment mogul."

K-Fed's match with Cena was not for his title. It was a no-disqualification contest, which meant there were no rules.

After it appeared Cena was going to defeat Federline with an FU, a 348-pound wrestler named Umaga appeared and attacked the champ, helping the former Mr. Britney Spears get the victory.

But fear not wrestling fans and Federline haters, he did not escape unscathed.

Later that night, Federline was a guest commentator for another Cena match. When Federline decided to get involved in that match, Cena picked him up and FU'ed him to the delight of a raucous crowd.
Well, it looks like K-Fed has finally found a way to draw an audience. To see more pics of Federline getting his butt kicked, just read more